Barbie Turtleneck Sweater
Difficulty level:




Easy
Free Doll Sweater Knitting Pattern
Materials: Sensations Soles & More self-striping sock yarn color 1810 262 yds (240 m) / 60 gr - 1 ball
Needles: 0 (2.00 mm) OR SIZE NEEDED TO OBTAIN GAUGE.
Hook: 1.25 mm
Gauge:24 st x 36 rows = 4" x 4" (10 cm x 10 cm)
Patterns:
Stocking Stitch
1 row and all odd rows - knit sts
2 row and all even rows - purl sts
Rib:
1 k, 1 p
Directions:
Back and front of the sweater was knitted as one piece up to armholes, then front and backs were knitted separately.
Cast on 30 sts (including edge stitches).
Rows 1-4: rib
Rows 5-16: stocking stitch
Divide the stitches on the needle as follows: 1 edge st and 6 sts for the left back, 16 sts for the front, 6 sts and 1 edge st for the right back. Continue front and left and right backs separately.
Front
Knit 10 rows of stocking st.
Row 11: to shape a neckline close 8 sts in the middle and continue left and write sides separately.
Rows 12-16"stocking st. Cast off
Right Back
Knit 16 rows of stocking stitch.
Left Back
Knit as right back.
Sleeve
Cast on 14 sts (including edge stitches).
Rows 1-4: rib
Rows 5-32: stocking stitch. Cast off
Finishing:
Join shoulder seams.
Pick up 24 sts (including edge stitches) along the neckline and knit rib for 8 rows. cast off.
Join sleeve seams. Set-in sleeves.
Sew 4 sew-on snaps to the back opening.
Enjoy!
Comments
There are 1 total comments on this article.
Leave a comment
about the article.
Poster: Linda Davis
January 17, 2014

Excellent! and easy too!Thank you.
More Information
Back of the sweater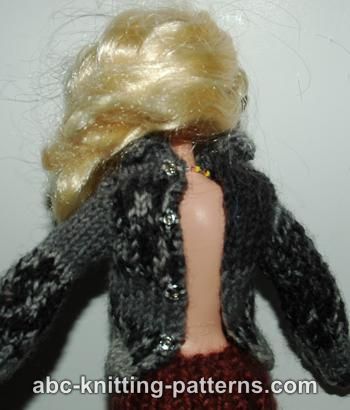 If you liked this pattern, you might also like:
Browse Similar Items by Category: