Free Doll Dress Knitting Pattern
Materials: Comfy Fingering by Knit-Picks fingering weight yarn (75% Pima Cotton, 25% acrylic), 218 yards (199 meters)/
50 grams, color Peapod 1 ball and White 1/4 of the ball (for green dress)
Comfy Fingering by Knit-Picks fingering weight yarn (75% Pima Cotton, 25% acrylic), 218 yards (199 meters)/
50 grams, color Celestial 1 ball and White 1 ball (for white and navy dress)
Small plastic or metallic snaps

Needles:  US 1 (2.25 mm) circular and double pointed needles (dpn)

Gauge: 26 st x 36 rows = 4" x 4" (10 cm x 10 cm)

Pattern Notes

Garter stitch: all rows knit

Stockinette stitch: odd rows (RS) knit, even rows (WS) purl.

Lace Pattern

The lace pattern is worked as a 6-row repeat, the first row has 7 sts, which increases to 17 sts in the last row. Five rows of lace are worked in the same way: rows 1-3 knit, rows 4 and 6 purl. All changes are worked in the 5th row of the 6-row repeat. Every fifth row will be described below.

Abbreviations

RS - right side
WS - wrong side
k - knit
p - purl
yo - yarn over
bb - button band
pu&k - pick up and knit
psso - (slip one, knit the next 2 together, pass the slipped over the k2tog) = 1 st instead of 3


Dress

The dress is worked top-down back and forth with a button band on the back. The bodice is worked in stockinette st with raglan sleeves, the skirt is worked with a wave-like lace pattern.

Raglan is worked with yarn over before and after the marked raglan stitches in each right side (RS) row, thus the number of stitches in each RS row is increased by 8.

Selvedge stitches are worked in the following way: knit the first stitch in a row, purl the last one.

The button band is worked in garter stitch - all rows knit.

Yoke

With blue yarn and circular needles cast on 52 stitches (44 + 6 button band + 2 selvedge). Work 2 rows in garter stitch.
Change to white yarn, distribute the stitches in the following way:
1 selvedge - 3 button band (bb) - 4 right back - 1 raglan (place a marker) - 10 right sleeve - 1 raglan (place a marker) -
12 front - 1 raglan (place a marker) - 10 left sleeve - 1 raglan (place a marker) - 4 left back - 3 bb - 1 selvedge
Row 3 (RS) and all odd rows: knit, yo before and after each raglan marker, purl the last stitch.
Row 4 (WS) and all even rows: k selvedge st, k 3 (bb), purl to last 4 sts, k 3 (bb), p 1 (selvedge).
Work 22 rows. In each odd row you increase the number of stitches by 8.

Up to this point, the blue-and-white and green dresses are knitted identically. Here, I'm going to describe the blue-and-white dress. If you are interested in making the green dress, scroll down to the section titled "For the green dress".

For the blue-and-white dress

Divide for bodice and sleeves:
Row 23: k 19, transfer the next 30 sts to a piece of waste yarn, cast on 3, k 34, transfer the next 30 sts to a piece of waste yarn, cast on 3, k 18, p 1. = 78 sts
Row 24: k4, p 70, k3, p1.
Row 25: knit to last st, purl 1.
Repeat rows 25 and 24 five more times, after row 34, start the skirt.

Skirt

With blue yarn:
Rows 1, 2, 3: knit, last st purl.
Rows 4 and 6: k 4, purl to last 4, k 3, p 1. (The first 4 and last 4 sts form the button band.)
Row 5: k 4, *k2tog, (yo, k1) 3 times, yo, k2tog - repeat from * 7 times to last 4 sts, k3, p1
The lace pattern is done over 6 rows. Change yarn every 6 rows.

With white yarn:
Rows 7-9: knit, last st purl.
Rows 10 and 12: k 4, purl to last 4, k 3, p 1.
Row 11: k4, * k2tog, (k 1, yo) 4 times, k1, k2tog - repeat from * 7 times, k3, p1

With blue yarn:
Rows 13-15: knit, last selvedge st purl.
Rows 16 and 18: k 4, purl to last 4, k 3, p 1.
Row 17: k4, *k2tog, k2, (yo, k 1) 4 times, k1, k2tog - repeat from * 7 times, k3, p1

With white yarn:
Rows 19-21: knit, last st purl.
Rows 22 and 24: k 4, purl to last 4, k 3, p 1.
Row 23: k4, *k2tog 2 times, (yo, k 1) 5 times, yo, k2tog 2 times - repeat from * 7 times to last 4 sts, k3, p1.

With blue yarn:
Rows 25-27: knit, last st purl.
Rows 28 and 30: k 4, purl to last 4, k 3, p 1.
Row 29: k4, *k2tog 2 times, (k1, yo) 6 times, k1, k2tog 2 times - repeat from * 7 times to last 4 sts, k3, p1.

With white yarn:
Rows 31-33: knit, last st purl.
Rows 34 and 36: k 4, purl to last 4, k 3, p 1.
Row: 35: k4, * k2tog 3 times, (yo, k1) 5 times, yo, k2tog 3 times - repeat from * 7 times to last 4 sts, k3, p1.
Repeat rows 31-36 four times or to desired length. Change colors every 6 rows.
To finish the hem, work 4 rows in garter stitch and bind off.

For the green dress

Divide for bodice and sleeves:
Row 23:  k 19, transfer the next 30 sts to a piece of waste yarn, cast on 3, k 34, transfer the next 30 sts to a piece of waste yarn, cast on 3, k 18, p 1. = 78 sts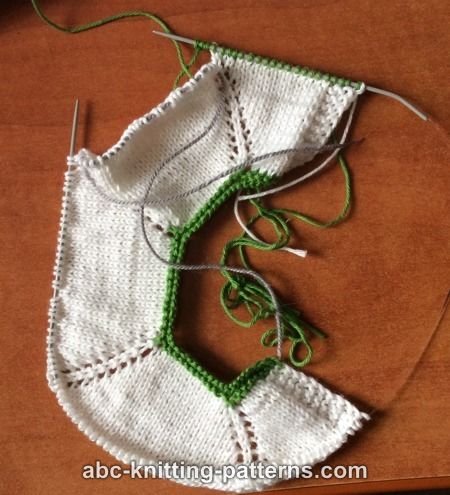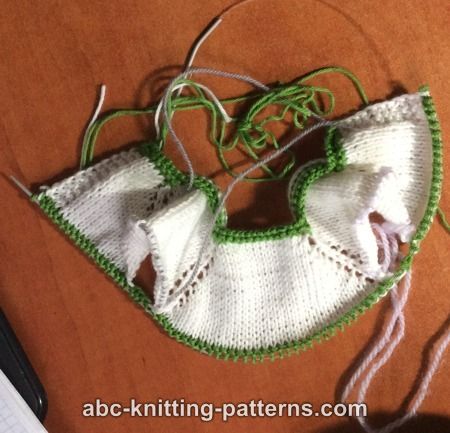 Rows 24 and 25: knit, last st purl.
Rows 26 and 28: k 4, purl to last 4, k 3, p 1.
Row 27: k 4, *k2tog, (yo, k1) 3 times, yo, k2tog - repeat from * 7 times to last 4 sts, k3, p1
Continue the skirt as described above for the blue-and-white dress starting with row 7. Repeat rows 31 through 36 five times or to desired length.
To finish the hem, work 4 rows in garter stitch and bind off.

Sleeve

Sleeves are worked in the round on double pointed needles (dpn).
Transfer 30 sts from waste yarn to dpn, distribute them evenly. With white yarn:
Round 1: pu&k 3 sts underarm, knit 30. Place a marker, this is the beginning of the round.
Round 2: psso (slip one, knit the next 2 together, pass the slipped over the k2tog) = 1 st instead of 3, k 30.
With green/blue yarn knit rounds 3 and 5, purl round 4. Bind off.

Finishing

Weave in the yarn ends. Sew snaps to the button band.