Free Doll Dress Knitting Pattern
I originally knitted this dress as a Halloween dress, but it can work as an evening dress for any occasion.
The dress features raglan-style sleeves. It is gathered at the waist using rib stitches to provide definition. It features a rear snap closure. I added lines in a contrast color at the sleeves, waist and hem for additional decoration.
You can purchase this dress from our Etsy store!
Materials: Comfy Fingering by Knit-Picks fingering weight yarn, 75% Pima Cotton, 25% acrylic, 218 yards (199 meters)/
50 grams, color lilac - 1 ball
small amount of black yarn;
4 sew-on snaps.
Needles: US # 0 (2.0 mm) circle and double pointed needles (dpn) OR SIZE NEEDED TO OBTAIN GAUGE
Gauge: 28 sts x 40 rows = 4" x 4" (10 x 10 cm)
Pattern Notes
Stockinette St in rows
Row 1: knit
Row 2: purl
Stockinette St in Rounds
All rounds: knit
Selvedge Stitches
The 1st and last stitches of the pattern are selvedge stitches. Selvedge stitches are used to make the edges of the work even and smooth 2. You should slip the first stitch as if to knit and purl the last stitch. The selvedge stitches are not counted in the pattern unless otherwise specified.
Raglan: Increases for raglan are made on each side of marker in every transition between sleeves and body. All increases are done from RS as follows: work until 1 stitch remains before marker, make 1 yarn over (YO), knit 2 stitches (marker is between these 2 stitches), make 1 yarn over (YO) = 2 stitches increase. On next round purl YOs.
Abbreviations:
k - knit
p - purl
psso - Pass slipped stitch over (slip 1 st knitwise to the right needle, knit the next 2 sts together, pass the slipped stitch over (2 sts decrease)
kfr&b - knit into front and back
yo - yarn over
RS - right side
WS - wrong side
Dress
The dress is worked top-down, seamlessly, first back and forth, then in the round. The sleeves are worked in-the-round on dpn.
Button band stitches are worked in a garter stitch pattern: knit in all rows.
Yoke
Using circle needles, with purple yarn cast on 54 sts and knit 2 rows.
In the second row place 4 markers: after the 8th, 20th, 34th, 46th sts.
You will have: 1 selvedge st, 2 button band sts, 4 back sts, 2 raglan sts (a marker between them), 10 sleeve sts, 2 raglan sts (a marker between them), 12 front sts. 2 raglan sts (a marker between them), 10 sleeve sts, 2 raglan sts (a marker between them), 4 back sts, 2 button band sts, 1 selvedge st.
Row 3 (RS) and all odd rows knit, at the same time make raglan increases as described above, you add 8 sts in each odd row.
Row 4 (WS) and all even rows, purl, except the button band sts, which you knit.
Work 22 rows in purple, change to black yarn and work 2 more rows as established.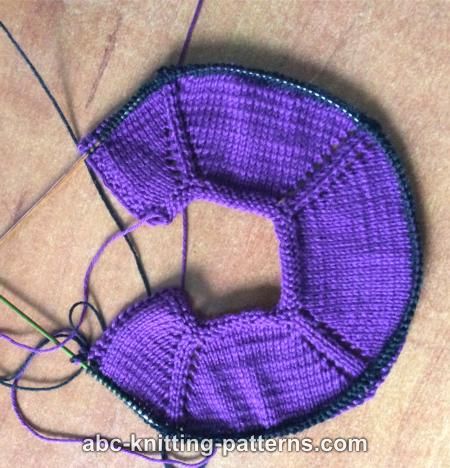 Bodice
Row 25: (in black): sl 1 selvedge st, k 18 (back), transfer the next 34 sts of the sleeve to waste yarn, cast on 3 sts, k 36 (front), transfer the next 34 sts of the sleeve to waste yarn, cast on 3 sts, k 18 (back), p1 selvedge st.
Rows 26 & 28: purl in black.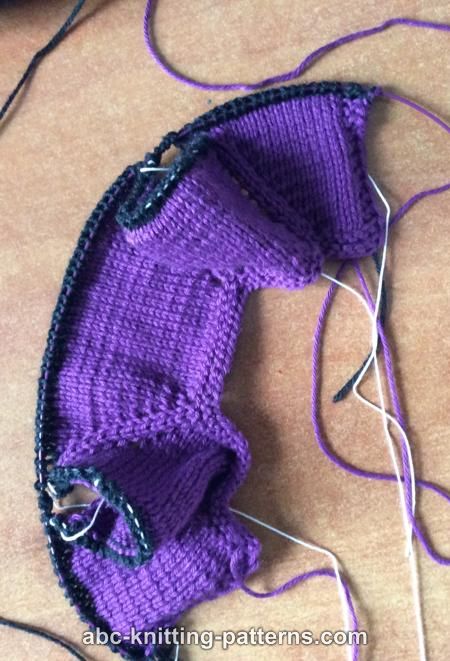 Row 27 in black: sl 1, k 2, kfr&b 74, k 2, p 1 = 154 sts
Rows 29 -48 (in purple): knit odd rows, purl even rows.
Row 49/Round 1: knit to last 3 sts, transfer the last 3 sts to a spare needle, overlap these 3 last sts and 3 beginning sts and knit them together to close into a round.
Knit 30 rounds, round 31 purl, round 32 knit
Change to black yarn: round 33 purl, 34 knit, 35 purl, 36 knit
Change to purple yarn: round 37 purl, 38 knit, bind off. Cut yarn.
Sleeve
Transfer 34 sts from waste yarn to dpn, distributing them evenly, pick up and knit 3 sts underarm = 37 sts, knit 5 rounds with black yarn.
Round 6 knit in purple, 3 underarm sts: psso = 35 sts
Round 7 purl 35 sts
In black: round 8 knit, 9 purl, 10 knit, 11 purl
In purple: round 12 knit, 13 purl, bind off. Cut yarn.
Finishing
Sew underarms. Weave in the ends of the yarn. Sew snaps onto the button band.
Enjoy!