American Girl Doll Seed Stitch Skirt
Difficulty level:




Easy
Free Doll Skirt Knitting Pattern
Size: length - 4.5" (12 cm), hips - 12" (30 cm)

Materials: Supersocke 6 fach New Wave Color sport weight sock yarn 412 yards (377 meters) / 150 gr - 0.3 ball
a piece of 3/4" wide elastic for belt, sewing needle and thread to sew the elastic.

Needles: circular or dpn US # 2 (2.75 mm)

Gauge for stockinette stitch: 22 sts = 4" (10 cm)

Pattern Notes:
Stockinette stitch in rows: RS rows knit WS rows purl.
Stockinette stitch in rounds: all rounds knit

Seed stitch in rounds:
Rnd 1: * k1, p1 - repeat from * across the rnd
Rnd 2: * p1, k1 - repeat from * across the rnd

Abbreviations:
kfr&b - knit front and back
pu - pick up

The belt of the skirt in worked in stockinette st back-and-forth in rows.
The skirt is worked in rounds in stockinette and seed sts.

CO 56 sts, leave a 6" tail.

Belt:

Work in stockinette 3 rows:
Row 1 (RS) knit,
Row 2 purl,
Row 3 knit.
Row 4 knit.
Rows 5 and 7 knit,
Rows 6 and 8 purl.
Fold the belt lengthwise, with the left needle, pu the first st on the cast-on edge, knit it together with the first st.
With the left needle pu the second st on the cast-on edge, knit it together with the second st.
Repeat for all 56 sts. In this way we "sew" the belt in a tube.

Join and continue to work in a circle and go on working in rounds. Place a marker on the first st. of the round.

Skirt

Row 1: *k1, kfr&b - repeat across.
Work in stockinette 20 rounds. Then work 22 rounds in seed st. Bind off.

Finishing:

Insert elastic in the belt, sew the ends together. Sew the opening of the belt with the
co tail of the yarn.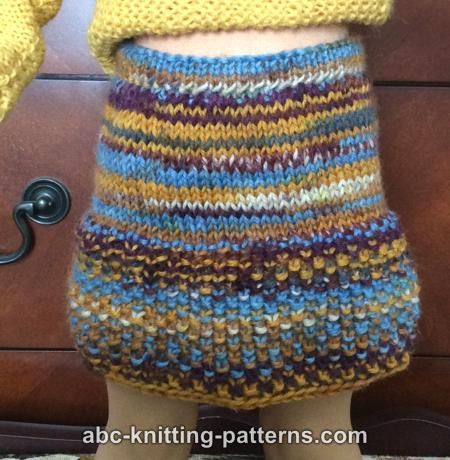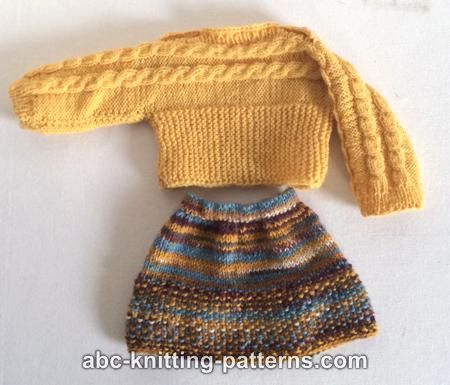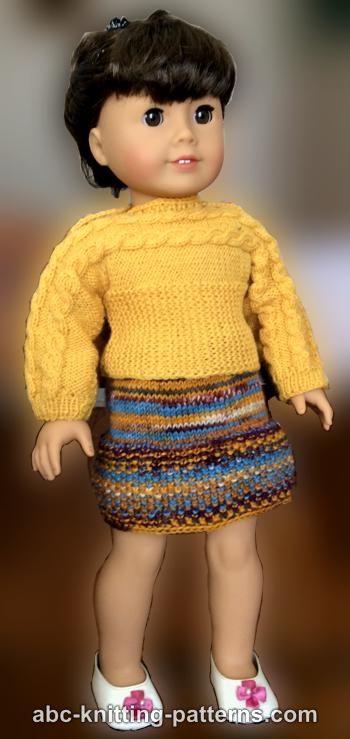 Comments
There are 2 total comments on this article.
Leave a comment
about the article.
Poster: Janet
July 23, 2015

What # weight is this yarn?
Thank you
Janet
Poster: Elaine Phillips
July 29, 2015

Sport weight
If you liked this pattern, you might also like:
Browse Similar Items by Category: