American Girl Doll Pleated Skirt
Difficulty level:




Easy
Free Doll Skirt Knitting Pattern
Materials: Brown Sheep Nature Spun sport weight yarn, 1 3/4 oz (40 gr) 184 yards (168 m), color 112S Elf Green - 1 ball
A piece of 3/4" wide elastic for belt

Needles: US 2 (2.75) circular needles OR SIZE NEEDED TO OBTAIN GAUGE

Gauge for stockinette stitch: 26 st = 4" (10 cm)

Abbreviations:
kfr&b - knit front and back
m1 - Make 1 increase - I used the increase described by Elizabeth Zimmerman
Make a backward loop over the right-hand needle and in the next row/round purl/knit
as a regular stitch.

Pattern Notes:

Stockinette Stitch in rows:
1st row and all odd rows - knit sts
2nd row and all even rows - purl sts

Stockinette Stitch in rounds:
knit all rounds

Skirt

The skirt is worked from top down. The belt is worked back and forth.
The skirt is worked in rounds without seams on circular needles.

Belt
CO 57 sts.
Work in stockinette 3 rows: row 1 (RS) knit, row 2 purl, row 3 knit.
Row 4 knit.
Rows 5 and 7: knit.
Rows 6 and 8: purl.
Fold the belt lengthwise, * insert left needle into the first st on the cast-on edge, knit it together with the next st on needle.
Repeat from * for every st to the end of the row. This will form a "tube" for the belt.

Join and continue to work in rounds.
Round 1: kfr&b in each st of the round = 114 sts
Round 2: *k4, p2 - rep from * across the round (19 times)
Rounds 2-19: like round 2.
Round 20: *k2, m1, k2, p1, m1, p1 - rep from * across the round = 152 sts
Round 21: *k2, p1, k2, p3 - rep from * across the round.
Rounds 22-39 work as round 21.
Round 40: *k2, m1, p1, m1, k2, p3 - rep from * across the round = 190 sts
Round 41: * k2, p3, k2, p3 - rep from * across the round
Rounds 42 - 49 work as round 41. Bind off.

Finishing

Insert elastic tape into the belt tube. Sew the opening closed.

Enjoy!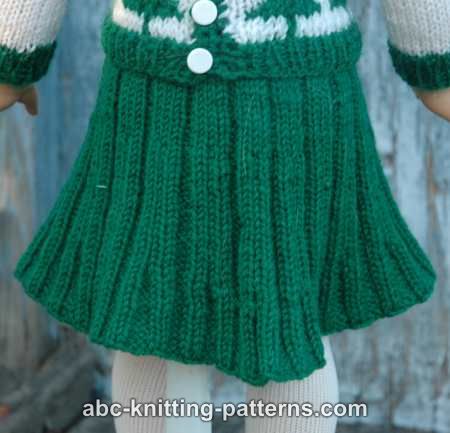 Comments
There are 2 total comments on this article.
Leave a comment
about the article.
Poster: Veronica Conway
December 26, 2014

Very pretty.
Poster: Mtayl75234
December 3, 2014

THANKS!! These are so cute. Can hardly wait to knit them.
If you liked this pattern, you might also like:
Browse Similar Items by Category: