Paracord Water Bottle Carrier
Difficulty level:




Easy
Free Crochet Bottle Carrier Pattern
There's a whole corner of the internet devoted to paracord crafts: belts, bracelets, water bottle carriers, can koozies and so on. However, the items are generally woven. I've long been wondering if paracord could also be crocheted, so when I recently purchased a Klean Kanteen 64 oz Stainless Steel Water Bottle, I decided to give it a try.

Why use paracord? Paracord is very tough and durable and does a good job of protecting the water bottle from scratches and dents. Also, in case of an emergency while hiking or camping, the water bottle carrier can be unraveled giving you about 80-90 feet of paracord, which can come in very handy.

Finished Measurements
Bottle diameter: 4" (10 cm)
Bottle height: 8" (20 cm)

Materials: Nylon Military Paracord 550 lbs Type III 7 Strand Utility Cord Rope 100 Feet - 1 skein

Size K/10.5 [6.5 mm] crochet hook

Gauge is not important

Directions

Chain 8, join to first ch to make a circle.
Round 1: ch 3 (counts as first hdc and ch 1), *1 hdc, ch 1, repeat from * 9 more times, sl st to ch 3.
Round 2: ch 5 (counts as first dc and ch 2), skip 2 sts, *1 dc, ch 2, skip 2 sts, repeat from * 5 more times, sl st to ch 5.
Rounds 3-5: ch 5 (counts as first dc and ch 2) *1 dc over dc from prev round, ch 2, skip ch 2, repeat from * 5 more times, sl st to ch 5.
If you want a longer carrier, repeat round 3 to desired length.
Round 6: ch 3 (counts as 1 dc), *1 dc, skip ch 2, repeat from * 6 more times, sl st to ch 3.
Work chain to make a handle of desired length. Sl st to the middle of round 6. Tie off.

Enjoy!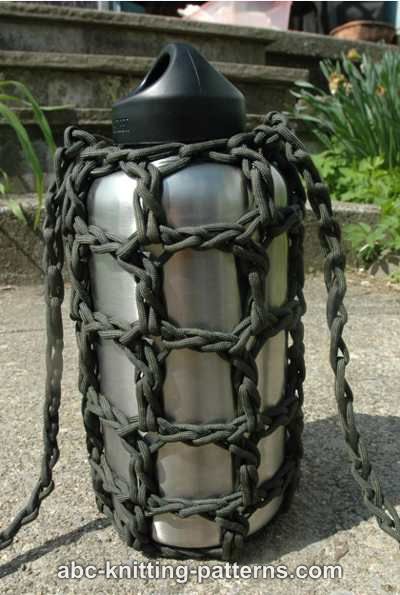 Comments
There are 1 total comments on this article.
Leave a comment
about the article.
Poster: Gary
May 2, 2016

Made one and I like it. Found that military one quart canteen will fit loosely in it. Need to make an oval bottom for the canteen.
Need more patterns and projects like this. ex.:belts, suspenders,etc. BUT they must be made in such a manner that unraveling them will not shorten them.
Browse Similar Items by Category: