Classical Antiquity Bracelet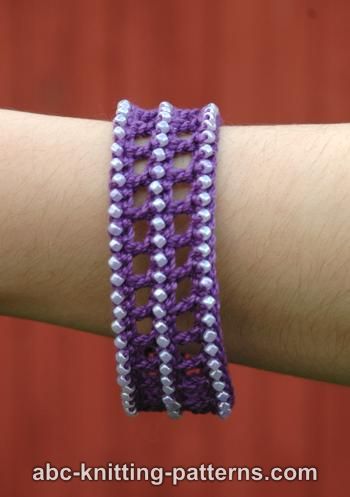 Difficulty level:




Easy
Free Bracelet Crochet Pattern
Materials: Aunt Lydia (affiliate link)'s 100% Mercerized Cotton, Size 3, 150yd/138m,
seed beads #8,
2 plastic snaps.

Hook: 2.0 mm

Directions

Beaded Single Crochet (bsc): Insert hook in indicated st, slide one bead up to the hook,
yo after the bead, draw yarn through the stitch, yo, draw yarn through both loops on the hook.
Foundation: Chain 60 or to desired length.
Row 1: Ch 1, 3 sc, 54 bsc, 3 sc, turn
Row 2: ch 3 (counts as 1 dc), 2 dc, *ch1, skip a st and 1 dc in the next st, repeat from * to the last 3 sts; 3 dc, turn.
Row 3: ch 1 (counts a 1 sc), 2 sc, 54 bsc, 3 sc, turn
Repeat rows 2 and 3. Tie off

Finishing:
Weave in the tails. Sew on the snaps.
Comments
If you liked this pattern, you might also like: