Friendship Bead Bracelet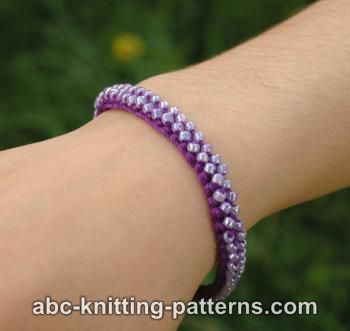 Difficulty level:




Easy
Free Bracelet Crochet Pattern
Materials: Aunt Lydia (affiliate link)'s 100% Mercerized Cotton, Size 3, 150yd/138m,
seed beads #8,
a clasp.

Hook: 1.5 mm

Directions

Beaded Chain Stitch (bch)
Slide one bead up close to hook, yo after the bead, draw thread through loop on hook.

Beaded Single Crochet (bsc): Insert hook in indicated st, slide one bead up to the hook,
yo after the bead, draw yarn through the stitch, yo, draw yarn through both loops on the hook.
Leave a 5" long tail.
Foundation: Chain 3, 52 bch, ch 4, turn
Row 1: holding the chain with beads from you, 3 sc, 52 bsc, 3sc.
Tie. Cut thread leaving 5" long tail.

Finishing

Sew the clasp using the "tails".
Comments
If you liked this pattern, you might also like: