Lattice Baby Blanket
Difficulty level:




Easy
Free Baby Blanket Knitting Pattern
Get ready to create a cozy and stylish baby blanket with the Lattice Baby Blanket pattern! This easy-to-follow design features a textured lattice pattern that adds a touch of elegance to your finished product. Whether you're a seasoned knitter or just starting out, this pattern is perfect for you. With its simple design and comfortable texture, the Lattice Baby Blanket is sure to become a staple in your baby's nursery. So grab your needles and let's get started!
Size: 54" x 40" (137 cm x 100 cm)

Materials: O-Wool Legacy Bulky weight yarn (100% wool) color Clay 106 yards (97 meters) / 100 gr - 8 skeins

Needles: US 10.5 (6.5 mm)

Gauge: 14 st x 20 rows = 4" x 4" (10 x 10 cm)

Directions

Cast on 140 sts.
Row 1 (wrong side): sl1, purl to the end of the row.
Rows 2, 4, 6 and 8: sl1, (p1, k1) twice, p1, *k2 (p1, k1) twice, p1, from * repeat 19 times, end p1.
Rows 3, 5 and 7: sl1, (p1, k1) twice, *p4, k1, p1, k1, repeat from * 19 times, end p2.
Row 9: sl1, k5, *p2, k12, repeat from * 9 times, p2, k5, p1.
Row 10: sl1, p5, * k2, p12, repeat from * 9 times, k2, p6.
Rows 11-18: repeat rows 1-8.
Row 19: sl1, k12, *p2, k12, repeat from * 9 times, p1.
Row 20: sl1, p12, *k2, p12, repeat from * 9 times, p1.
Repeat rows 1-20 8 more times or to desired length.
Cast off.

Enjoy!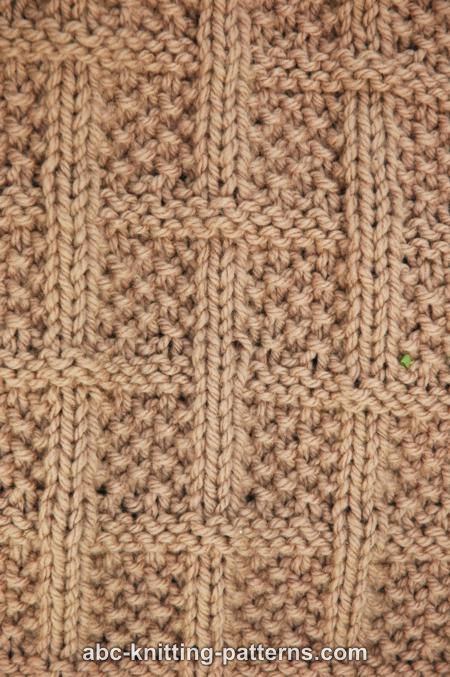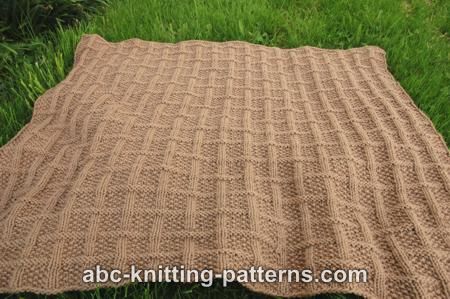 Comments
There are 20 total comments on this article.
Leave a comment
about the article.
Poster: Kim McHenry
February 16, 2018

I am new at reading patterns. Row 2, 4, 6 & 8 I s1, p1, k1 twice then p1 then *k2, p1, k1 twice then p1 until end of row and then purl 1?
Poster: Elaine Phillips
May 22, 2014

k, k, p, k, p, k
Poster: Francisca
May 22, 2014

Thank you very much ;)
Poster: Jane
December 10, 2013

I believe it is a multiple of 7. (7 for the beginning and end stitches, and multiples of 7 for the repeats in the middle.)
Poster: Maxine
December 28, 2013

When u slip the first stitch.....as if to purl or knit?
Thanks
Poster: Elaine Phillips
January 4, 2014

Slip as if to knit.
Poster: Val shore
September 10, 2017

Hi could I just ask is this knitted in double knitting wool? Thanks x
Poster: Colleen Britz
July 3, 2016

I would like to know how to make it larger. I love the pattern but would love to make larger. Haven't figured out what multiple of is plus sts for pattern to be made bigger. Can someone help me?
Please.
Poster: Nicki
June 15, 2016

I love this pattern, I make blankets for my local animal shelter, and I can't wait to try this one out. Thank you.
Poster: Shelby
August 9, 2015

If I wanted to add a border, would it simply work if I were to just add 10 stitches? The 10 stitches would be 5 stitches in the beginning and 5 stitches in the end in a simple stockinette stitch, with about 5 full rows of stockinette at the beginning and the end of the blanket.
View All Comments (20)
If you liked this pattern, you might also like: