Square Stripes Garter Stitch Baby Blanket
Difficulty level:




Easy
Free Baby Blanket Knitting Pattern
Size: 38" (96 cm) x 38" (96 cm)

Materials:
Red Heart Super Saver 100% acrylic yarn worsted weight, color Natural, 333 m (364 yds)/198 g - 1 skein. (A)
Red Heart Super Saver 100% acrylic yarn worsted weight, color Brown, 333 m (364 yds)/198 g - 1 skein. (B)
Red Heart Classic Multi 100% acrylic yarn worsted weight, color Shaded Browns 167 yds (153 m) /85 g - 1 skein (C)

Needles: circular and dpn #10 (6.0 mm) OR SIZE NEEDED TO OBTAIN GAUGE.

Gauge: 14 st x 28 rows = 4" x 4" (10 x 10 cm)

Garter Stitch in rounds
Round 1: knit
Round 2: purl
Repeat rounds 1-2

Directions:
The blanket is worked in rounds from the center outwards on double pointed and circular needles. With color B, cast on 8 sts on dpn, join and continue to work garter stitch in rounds: knit all odd rounds and purl all even rounds. Place markers before 2nd, 4th, 6th and 8th sts. These are diagonal stitches, where the increases are made. Increase for 8 sts in every odd round at each diagonal st as follows: M1, k1, M1.
Work rounds 1-8 with color B
Work rounds 9-20 with color A
Work rounds 21-28 with color B
Work rounds 29-38 with color C
Repeat rounds 9-38 two more times
Work rounds 115-126 with color A
Work rounds 127-138 with color B.
Cast off.

Enjoy!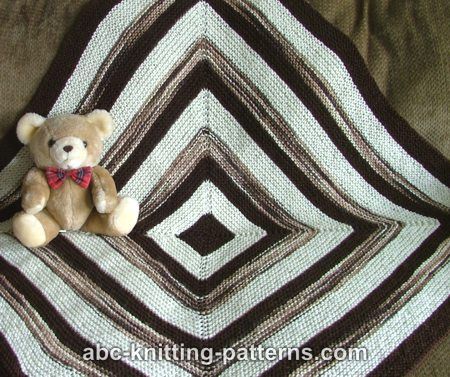 Comments
There are 1 total comments on this article.
Leave a comment
about the article.
Poster: Jessica-Jean
May 15, 2012

Once upon a time, when my teenaged daughter was working nearly full-time and studying hard to get her two college degrees (Bachellors of Bio-Chemistry and Nursing), she complained about being cold while staying up most of the night to study. So, I showed her a nearly finished baby blanket I'd begun with no intended baby in mind. She LOVED it! I quickly finished it up and she studied under it for the better part of those seven years of studies. She still uses it for TV-watching. :)

Why do I mention it?
I had no written pattern; it was essentially the same as this pattern you've posted with only one difference: I used yarn-overs on either side of the diagonal stitches, and - of course - I didn't use the exact stripe pattern, needle size or yarn.

The only thing I would change on it would be to use an applied border instead of an ordinary bind-off. Applied I-cord would be good or a border such as used on the Truly Tasha Tudor Shawl - though it's fussy when turning the corners.

Thank you for reviving a sweet memory; there aren't many of my knits that my kids appreciate(d); they're in their late thirties now. Especially, thank you for putting it in print!
If you liked this pattern, you might also like: