American Girl Doll Round Yoke Dress
Difficulty level:




Easy
Free Doll Dress Knitting Pattern
Materials: Noro Kureyon sock yarn fingering weight 462 yards (422 meters) /100g Color S253 - 0.5 skeins. (A)
Knit Picks Palette fingering weight 100% wool yarn 210 m (231 yds)/ 50 g color Celestial - 0.25 ball. (B)

Needles: #2 (2.75 mm) OR SIZE NEEDED TO OBTAIN GAUGE

Gauge for stockinette stitch: 20 st x 28 rows = 4" x 4" (10 x 10 cm).

Pattern Notes:

Make 1 increase - I used the increase described by Elizabeth Zimmerman
Make a backward loop over the right-hand needle and in the next row purl it as a regular stitch. See picture

Stockinette Stitch in rows:
1 row and all odd rows - knit sts
2 row and all even rows - purl sts

In rounds: all rows - knit

Garter st in rounds
Row 1: knit
Row 2: purl

Ribbing 1x1 in rounds:
k1, p1 in each round.

Directions

The dress is worked from the top to the bottom back and forth and in rounds without seams.

Yoke

With yarn A cast on 32 sts.
Work stockinette stitch for 16 rows.
To shape the yoke increase by 9 sts evenly in rows 1, 3, 7, 11, 15. Total 45 sts of increase. There will be 77 sts in the end.

Divide for sleeves and continue to work bodice with yarn B
Row 17: work 13 sts (left front sts), transfer 13 sts (left armhole sts) to a length of yarn, work 25 sts (back sts), transfer 13 sts (right armhole sts) to a length of yarn, work 13 sts (right front sts). Work back and both fronts separately from 3 balls of yarn for 12 rows.

Row 29: work left front sts, cast on 3 sts with single cast on for underarm, work back sts, cast on 3 sts with single cast on for underarm, work right front sts. Work stockinette st for 4 rows.

Skirt

Row 33: with yarn A, sl1, *k1, m1 (make 1 increase), repeat from * to the end of the row, doubling the number of sts.
Rows 34-48: work stockinette stitch.
Row 49: work to the end or the row, cast on 3 sts with single cast-on, and continue to work in rounds.
Work 26 rounds or to desired length.
Work 6 rows of garter st in rounds. Bind off.

Finishing the Armhole:
The armhole is finished with 1x1 ribbing worked in rounds with yarn B.
Transfer armhole sts from the yarn to the needles and pick up sts along the side of the back, over the 3 underarm sts and along the side of the front. Work 1x1 rib for 5 rounds. Cast off.

Button bands

Pick up stitches along the left front of the yoke, bodice and skirt. Stop 1 (2.5 cm) inch from the place, where the skirt was worked in rounds. Work 5 rows of rib 1x1. Bind off.
Pick up sts along the right front of the skirt, bodice and yoke, starting from the 5 st cast-on. Work 5 rows of rib 1x1. Bind off.

Sew on buttons.

Enjoy!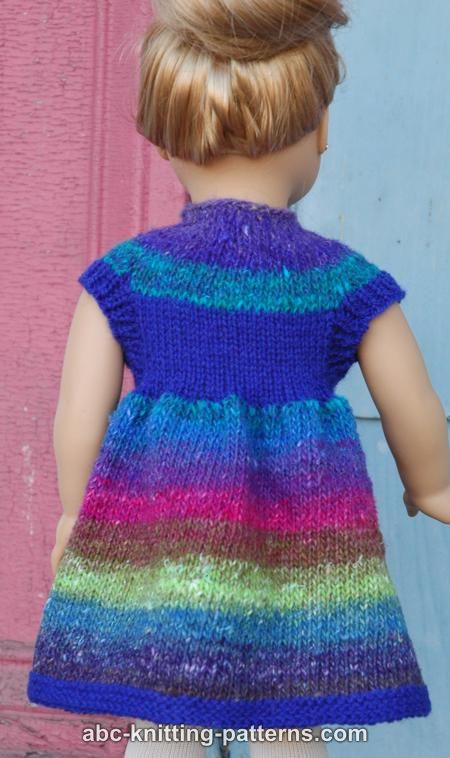 Comments
There are 3 total comments on this article.
Leave a comment
about the article.
Poster: judy
May 28, 2015

How can I get 20sts = 4" with fingering weight yarn?? Like the dress pattern very much, but cannot get gauge. Please help! Thank you, Judy
Poster: Elaine Phillips
June 3, 2015

Use bigger needles
Poster: Danielle
May 2, 2013

Thank you very much for this nice tutorial.
Beautiful colors bravo.
Danielle (Paris-France)
If you liked this pattern, you might also like:
Browse Similar Items by Category: