American Girl Doll Drawstring Raglan Summer Dress
Difficulty level:




Intermediate
Free Doll Dress Knitting Pattern
For this knitted summer dress, I wanted to see if I could knit an entire dress seamlessly, as one piece. I did it!

The dress is knitted from the neck down. It features raglan-style shoulders. To add shape to the dress at the waist, I used 2x2 ribbing. Without it, the dress ends up looking a little sack-like :)

I chose a self-striping yarn with short color repeats, and I think this was a good choice. You could probably use a solid color if this dress is going to be part of an outfit, but for a stand-alone dress, a multi-hued yarn is best, I think.
Skills Required/Techniques Used:
-Knit & purl, cast on & bind off
-Increasing: yarn over (YO), knit front and back (kfr&b)
Materials:
Jo-Ann Sensations (affiliate link) Breeze sport weight yarn 595 yards (544 meters) / 170 grams (6.00 ounces) color 27 purple lime - 0.3 skein
Notions: yarn needle, 5 stitch markers
Needles: circular US #2 (2.25 mm) OR SIZE NEEDED TO OBTAIN GAUGE
Gauge: 22 st x 32 rows = 4" x 4" (10 cm x 10 cm)
Abbreviations:
K – knit
P – purl
St , sts– stitch, stitches
kfr&b - knit front and back
co – cast on
yo - yarn over
sm - slip marker
Pattern Notes:
Stockinette Stitch in rounds: All rounds knit
2x2 Rib in rounds: All rounds *k2, p2 repeat from * to the end of the round
Garter stitch in rounds:
Round 1: knit
Round 2: purl
Repeat 2 rounds
Raglan increases: Increase for raglan by yarn over (yo) on each side of indicated, marked, stitch in every other round: yo, sm (slip marker), k1 (raglan st), yo. The number of sts increases by 8.
Directions:
The dress is worked from top down in rounds without seams, with raglan increases.
Cast on 66 sts, join and continue to work in rounds, place a marker at the beginning of the round, slip marker while working. The beginning of the round is in the mibble of the back.
Rounds 1-2: knit
Round 3 (eyelet round): * k2tog, yo, repeat from * to the end of the round
Rounds 4-5: knit
Check sts (=66) and place 4 raglan markers : 10 (right back) - 1 (the first raglan line, place a marker before this st) - 11 (right sleeve) - 1 (the second raglan line, place another marker before this st) - 20 (front) - 1 (the third raglan line, place another marker before this st) - 11 (left sleeve) - 1 (the forth raglan line, place another marker before this st) - 10 (left back).
Round 6 and all even rounds: slip the beg. marker, *knit till the raglan marker, yo, sm, k1, yo - repeat from * 4 times, k the remaining sts. till the end of the round. (+8 sts)
Round 7 and all odd rounds: knit
Repeat rounds 6-7 eight more times.
After round 6 the number of sts = 74 sts
After round 8 = 82 sts
After round 10 = 90 sts
After round 12 = 98 sts
After round 14 = 106 sts
After round 16 = 114 sts
AFter round 18 = 122 sts
After round 20 = 130 sts
After round 22 = 138 sts
Divide for sleeves and bodice:
Round 24: sm, k20, bind off the next 29 sts, k40, bind off the next 29 sts , k20. = 80 sts
Rounds 25-26: knit
Rounds 27-40: work 2x2 rib: *k2, p2 - repeat from * to the end of the round
Round 41 (increase round): *kfr&b, k2 - repeat from * to the end of the round = 120 sts
Rounds 43-69: knit
Round 70: purl
Round 71: knit
Repeat rounds 70-71 two more times.
Bind off.
Finishing:
Weave in all yarn ends. Insert either a piece of yarn, or cord, or ribbon into the eyelet round along the neckline.
Enjoy!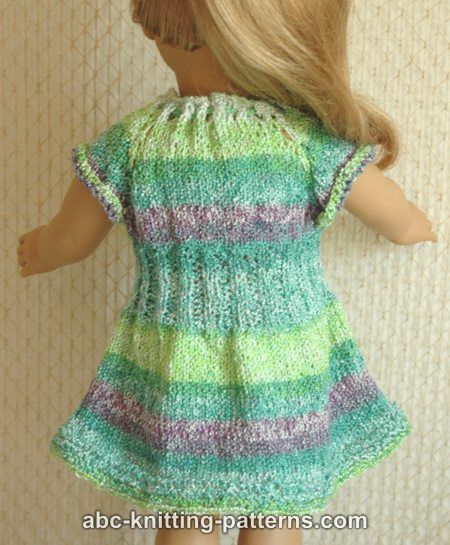 Comments
There are 12 total comments on this article.
Leave a comment
about the article.
Poster: barbara t
November 4, 2017

how adorable!!!! i'd better get busy! christmas is coming!
Poster: Elaine Phillips
March 26, 2013

I use 32" needles and "magic loop" method. Another option is to use double-pointed needles.
Poster: Tina
March 27, 2013

I did find 8" length circular needles in a local yarn shop but since it was a high end shop they wanted $18.95 for the needles and I probably won't use them again. Tried double point, didn't work well. I'd like to make this dress, but can't figure out how - I could try to just follow the directions but not knit in the rounds. ??
Thanks! What's the magic loop method?
Poster: Jo-Ann
June 11, 2014

The best advice, in terms of magic loop, is to search it on you tube. That way you will get a first hand demo of it. The method is quite ingenious and fairly easy.
Poster: al
May 23, 2015

Try amazon 9" circular knitting needles they still around $10 but thats a lot cheaper than $19
Poster: ck
September 14, 2015

Confused by the gauge - i needed #10 needles to get 22 stitches to 4 inches, and the dress was way too big. Is the correct gauge 22 stitches for 4 inches?
Poster: Lisa
January 21, 2014

I am confused by the yo's do you knit into the front or the back of them they just seem really loose and don't look right
Poster: Shinnee
January 16, 2014

What happens in row 41?
Poster: Pat
August 15, 2013

What size doll will this fit
Poster: Therese
August 22, 2016

I am using 9" circular needles I bought online that are working well,but I am wondering what happened to row 41? After 40 do we just do 42? Anyone have suggestions there?
View All Comments (12)
If you liked this pattern, you might also like:
Browse Similar Items by Category: