Free Scarf Knitting Pattern
This patterns looks good made in self-striping yarn with long color changes, like Crystal Palace (affiliate link) Mini Mochi or Noro (affiliate link) Sock yarn. This yarn will make each square a different color.
Skills Required/Techniques Used:
--Knit & purl, cast on & bind off
--Working in rounds on double pointed (dpn) or circular needles
--Decreasing: center double decrease (cdd)
--Picking up stitches

Size: 6" (15 cm) x 60" (150 cm)

Materials:
Crystal Palace (affiliate link) Mini Mochi fingering weight yarn 195 yds (178 m) / 50 g, color 122 - 2 balls

Needles: circular or dpn #2 (2.75 mm) OR SIZE NEEDED TO OBTAIN GAUGE.

Gauge: 20 st x 40 rows = 4" x 4" (10 x 10 cm)
Notions: Tapestry needle, 4 markers
Abbreviations:
K – knit
P– purl
st, sts - stitch, stitches
cdd - center double decrease (slip 2 sts knitwise, knit the next st, pass 2 slipped over the knitted one)
pm - place marker
sm - slip marker

Pattern Notes:

Garter Stitch in rounds
Round 1: knit
Round 2: purl
Repeat rounds 1-2

Short overview of the pattern:
The scarf consists of 10 blocks, which are connected in the process of knitting so there are no seams. Each block is worked inwards on circular ("magic loop" method) or double-pointed needles, the same way socks and other seamless garments are made.
Directions:

Block 1
Cast on 120 st, join and continue to work in rounds.
Round 1: purl till the last st of the round. Place a marker before the last st.
Round 2 (decrease round): Work cdd with the last st of the previous round and 1st and 2nd sts of this round, *k27, place marker, cdd - repeat from * 3 times, k27. = 112 sts
Round 3 and all odd rounds: purl
Round 4 and all even rounds: knit, working cdd after the markers, decreasing each round for 8 sts.
Round 5: purl
Repeat rounds 4-5: until 8 sts remain. Cut yarn, leaving a 10" (25 cm) tail. Pull through all the remaining sts and secure.

Block 2
Cast on 89 sts and pick up 31 sts along one side of block 1, join and continue to work in rounds as block 1.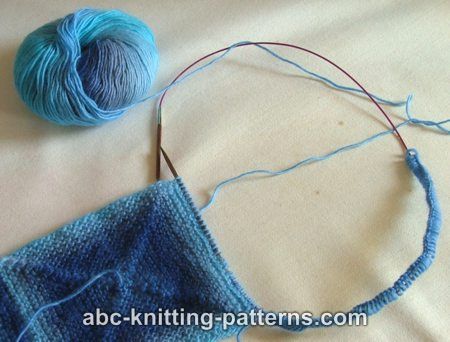 All next squares are worked as block 2.

Knit 10 squares or until desired length.

Enjoy!