Autumnal Triangle Shawl
Difficulty level:




Easy
Free Crochet Shawl Pattern
Welcome to the Autumnal Triangle Shawl crochet pattern! This shawl is perfect for those who love the cozy feel of autumn and want to add a touch of warmth to their wardrobe. The shawl is worked using the Granny Square technique and is fairly easy to crochet, making it a great project for both beginners and experienced crocheters alike.
The shawl features numerous stripes in autumnal colors, adding a beautiful touch of vibrancy to any outfit. The pattern includes both written directions and a chart for those who prefer to work from charts, making it versatile and easy to follow.
Whether you're looking for a new accessory for yourself or a gift for someone special, the Autumnal Triangle Shawl is sure to be a hit. So grab your hook, some autumn-color yarn, and let's get started!
Materials: Knitpicks Palette fingering weight 100% wool yarn 210 m (231 yds)/ 50 g different colors - total 12 skeins.
Hook size G (4.25 mm) OR SIZE NEEDED TO OBTAIN GAUGE.
Gauge: there are six 3 -dc groups in 4" (10 cm).
Size: Width - 110" (280 cm), depth - 53" (135 cm) without a fringe.
This shawl is the perfect project to use the remaining yarn from your other projects. Of course, brand new yarn can be used, in the colors of your choice. Make sure all the yarn is of the same weight. The shawl on the pictures was crocheted in the colors of autumn.
Directions: See drawing below.
Crochet back and forth.
Chain 6.
Row 1: (3 dc, ch 3, 3 dc) in the last ch from the hook, ch 1, 1 tr (treble crochet) in the same ch.
Row 2: ch 5, 3 dc in ch 1, ch 1, (3 dc, ch 3, 3 dc) in ch 3, ch 1, 3 dc in ch 5, ch 1, 1 tr.
Row 3: ch 5, (3 dc in ch 1, ch 1) twice, (3 dc, ch 3, 3 dc) in ch 3, ch 1, 3 dc in ch 1, 3 dc in ch 5, ch 1, 1 tr.
Row 4: ch 5, (3 dc in ch 1, ch 1) 3 times, (3 dc, ch 3, 3 dc) in ch 3, (ch 1, 3 dc in ch 1) twice, 3 dc in ch 5, ch 1, 1 tr.
Row 5: ch 5, (3 dc in ch 1, ch 1) 4 times, (3 dc, ch 3, 3 dc) in ch 3, (ch 1, 3 dc in ch 1) 3 times, 3 dc in ch 5, ch 1, 1 tr.
Rows 6-99: Repeat row 5 adding in each new row 2 repeats of *3 dc, ch*.
Work 1 row of sc along the long side of the shawl. Tie off.
Enjoy!
Comments
There are 17 total comments on this article.
Leave a comment
about the article.
Poster: Eva
October 20, 2014

Could I see a picture of the shawl in the front?
Thank you,
Eva
Poster: Joyce H
November 26, 2014

It was confusing to me also so I read through it a second time. Makes sense now.
Poster: Elaine Phillips
September 23, 2014

This shawl can be made with any weight yarn.
Poster: Elaine Phillips
February 26, 2012

To shorten, just crochet less rows than described in the pattern. Hope that helps.
Poster: Rosie
October 22, 2013

When ever you want to!
Poster: Elaine Phillips
October 18, 2012

You have to crochet 3 dc into a ring. Please see the chart below.
Poster: Harriet Horne
September 6, 2014

I love this pattern but I have a question: can you use worsted weight yarn?
Poster: Brenda Karas
October 24, 2013

This is pretty much a basic granny square pattern with an increase at the beginning and end of each row. There is also a very good diagram at the bottom of the page. It is all very clear when you think about it.
Poster: Linda L.
September 1, 2013

I thought the directions seemed a little confusing until I looked at the chart. This couldn't be any easier. I plan to make this with Simply Soft pastels. Thanks for the pattern!
Poster: Hazel
December 29, 2012

thank you so much for the pattern, super easy to make and it looks great, I am almost finished with my first =)
View All Comments (17)
More Information
Shawl diagram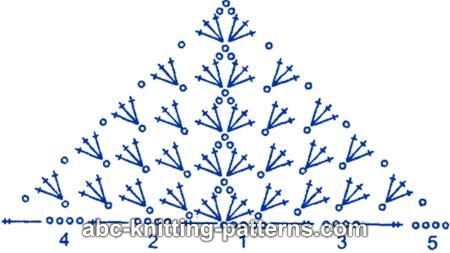 Enlarged Image
If you liked this pattern, you might also like:
Browse Similar Items by Category: