Easy Garter Stitch Shawl
Difficulty level:




Easy
Free Shawl Knitting Pattern
Size: Width - 55" (140 cm), depth - 27.5" (70 cm).
Materials: Laines du Nord Calipso wool/acrylic bulky weight yarn 320 m / 200g Color 4 - 1 skein.
Lamb's Pride Bulky 125 yds / 114 m per 4 oz/113 gr skein - 1 skein. Color: M-260 Cafe au Lait.

Needles: 10 1/2 (6.50 mm) OR SIZE NEEDED TO OBTAIN GAUGE.
Gauge: 13 st x 28 rows = 4" x 4" (10 x 10 cm)
Patterns:
Garter Stitch
all rows - knit sts
Directions:
With Calipso yarn cast on 7 sts. To make a firm edge always slip the 1st stitch and purl the last st.
Row 1: 1 selvedge st, 1 k, yo, 1 k, yo, 1 k, yo, 1 k, yo, 1 k, 1 selvedge st. mark the 4th st with the stitch marker. This is the center of the shawl.
Row 2 and all even rows: knit.
Row 3: 1 selvedge st, 1 k, yo, 3 k, yo, 1 k, yo, 3 k, yo, 1 k, 1 selvedge st.
Row 5: 1 selvedge st, k 1, yo, k 5, yo, k 1, yo, k 5, yo, k 1, 1 selvedge st.
Continue to make increases in every odd row, 4 yos per row: one after the 2nd st, two on both sides of the central st and another one before the 2 last sts of the row.
Color sequence:
Rows 1 - 94: Calipso yarn
Rows 95 - 98: Lamb's Pride yarn
Rows 99 - 104: Calipso yarn
Rows 105 - 112: Lamb's Pride yarn
Rows 113 - 120: Calipso yarn
Cast off.
Finishing:
Block the shawl.
Enjoy!
Comments
There are 8 total comments on this article.
Leave a comment
about the article.
Poster: Micheline
July 22, 2015

You increase till you get to how many stitches?
Poster: Penny
December 14, 2013

The edge stitches are the first and last stitch on a row. So you slip the first stitch from your leafy needle to the right one without knitting it, and the last stitch you purl.
Poster: H
December 10, 2012

You are supposed to knit the second row along with all the other even numbered rows.
Poster: farmkiti
March 9, 2015

As stated in the pattern, Row 2 and all even-numbered rows are Knit stitch.
Poster: Marilyn Gifford
October 17, 2013

I am really a beginner, as I do not know what you mean by "edge stitches". Hope you can explain. Thanks.
Poster: anita y tomaszewski
October 8, 2012

Please let me know what the second row is....I need to knit for the elderly and would really like this pattern for them.
Poster: joann donofrio
September 17, 2012

i would like to try this patern but row 2is missing, could u add please
thanks joann
Poster: Ellen
August 3, 2012

What happened to row 2 in the set-up? Are we supposed to 1K, YO, 2 K ?
More Information
Close up of the shawl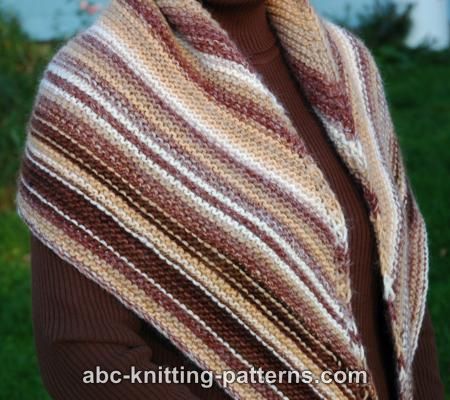 If you liked this pattern, you might also like:
Browse Similar Items by Category: