Earflap Knit Hat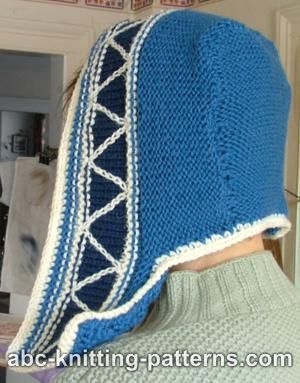 Difficulty level:




Easy
Free Knitting Pattern
Materials: Wool worsted weight yarn 100m/50g 1 ball of dark blue, blue and white.
Needles: 7 (4.5 mm)
Hook: C (3.0 mm)
Gauge for stockinette stitch: 18 st x 24 rows = 4" x 4" (10 x 10 cm).
Pattern:
Stockinette Stitch
1 row and all odd rows - knit sts
2 row and all even rows - purl sts
Reverse Stockinette Stitch
1 row and all odd rows - purl sts
2 row and all even rows - knit sts
Directions:
Cast on 110 st with blue yarn.
Row 1. purl
Rows 2-3. knit with white yarn
Row 4 - knit with dark blue yarn.
Row 5-6 - purl.
Row 7-14 - stockinette stitch
Row 15 - knit with white yarn
Row 16-17 - purl
Rows 18-19 - knit with blue yarn
Row 20-21 - purl
Cast off 15 st on both sides.
Continue for 12 rows of reverse stockinette stitch
Cast off.
Hat back
Cast on 20 st with blue yarn.Work reverse stockinette stitch for 6" (15 cm). Increase for 1 stitch at the beginning and the end of the row in rows 7, 13, 19, 25, 31. Cast off.
Finishing:
Sew hat back with the front.
Crochet around the edges sc with white yarn.
Embroider crosses in the light blue part with white yarn.
Enjoy!
Comments
There are 3 total comments on this article.
Leave a comment
about the article.
Poster: Nancy Marsh
January 31, 2013

could you explain back to me step by step not sure what I'am suppose to do with it.is it done in the reverse stitch?And it will be only 30 stitches.
Poster: Elaine Phillips
February 13, 2013

I updated the instructions for the back of the hat.
Poster: JoAnne Cooper
November 30, 2014

what is the updated version for the back, seeing as how it has not been posted. I am currently working on the back as well. Is there more than 30 stitches? How long? more than 6 inches?
If you liked this pattern, you might also like: