Free Child Sweater Knitting Pattern
Size: 2 (4, 6, 8)

Finished measurements
Chest: 24 [26, 28, 30] inches (60 [66, 72, 76] cm)

Materials: O-Wool Classic worsted weight yarn (100% wool) color Indigo 99 yards (90 meters) / 50 gr - 3 (4, 5, 6) skeins (B)
O-Wool Classic worsted weight yarn (100% wool) color Natural 99 yards (90 meters) / 50 gr - 3 (4, 5, 6) skeins (A)
4-6 sew-in snaps.

Needles: US 8 (5.0 mm) OR SIZE NEEDED TO OBTAIN GAUGE.

Gauge: 16 st x 32 rows = 4" x 4" (10 x 10 cm) in garter stitch

Garter Stitch
all rows - knit sts

Wrap and turn in the short rows:
With yarn in front sl 1 stitch to the right needle
Move yarn between the needles to the back
Slip the stitch back to the left needle
Turn the work and bring yarn back to the wrong side between the needles

Directions

The sweater consists of 2 two-color squares for the front and back, which are shaped with short rows. The sleeves are worked flat.

Front

With yarn A cast on 54 (62, 70, 78) sts.
Row 1: knit
Row 2: knit to the last 2 sts. Leave the last 2 sts on the left needle and turn (this is the 1st short row). Do NOT wrap.
Row 3: knit
Row 4: knit to the last 3 sts, turn.
Continue to work short rows until 2 sts are left on the right needle before turn. This is 1/2 of the front. Turn, knit next row.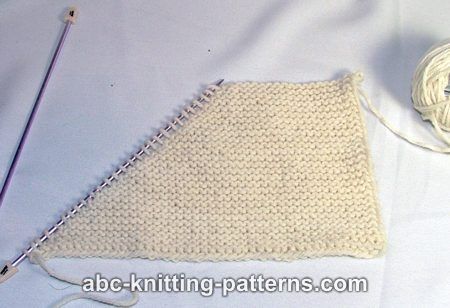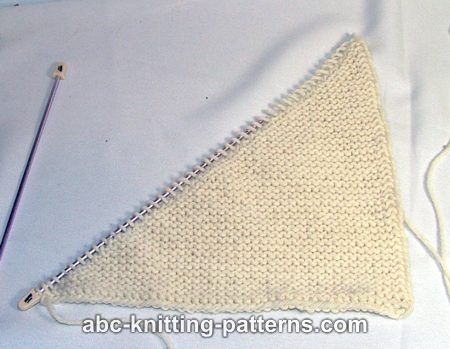 Continue with yarn B.
Now start knitting one more stitch in every even row until you work all the stitches on the left needle. While working second half of the front WRAP in short rows.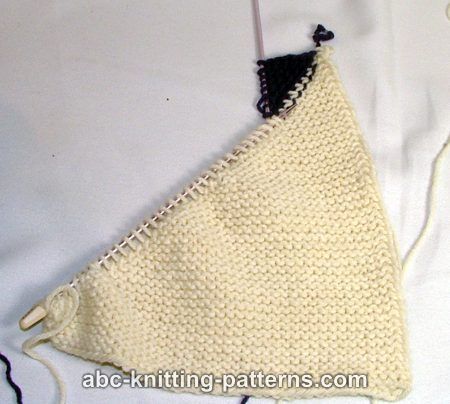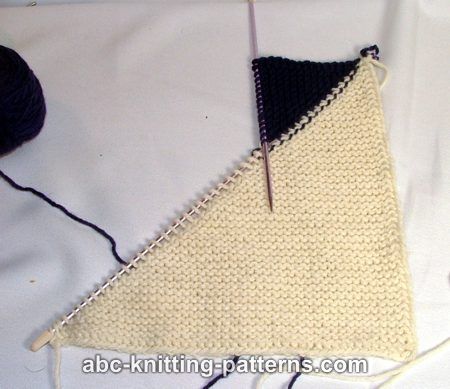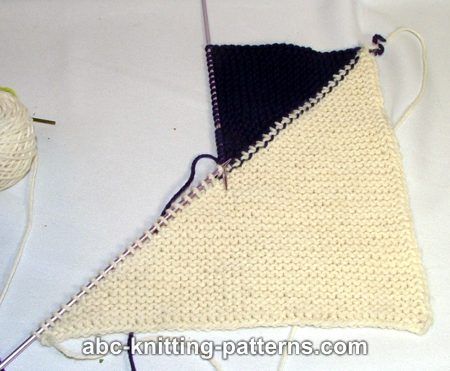 Knit wrong side row.
Work 6 (6, 8, 8) rows of 2x2 ribbing.
Bind off.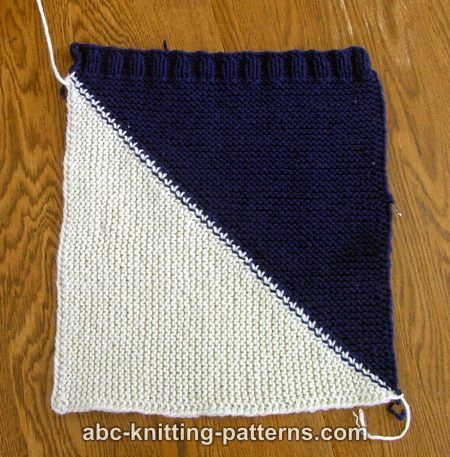 Back

Back is worked the same as front with one exception: knit 2 rows, before first short row, instead of 1.

Sleeve

Stitches for the sleeves are picked up along the sides of the front and back and the sleeves are worked flat. One sleeve is worked from yarn A, another from yarn B.

Place front and back on the table with the ribbing overlapping. Secure the short ends of the ribbing with the pins or basting. Count 22 (24, 26, 28) ridges from the beginning of the rib in the front and back and place markers.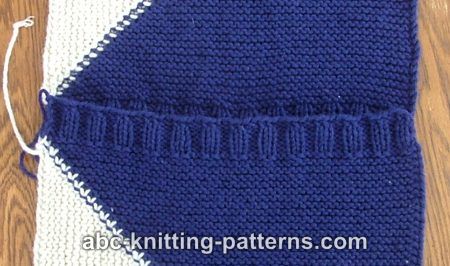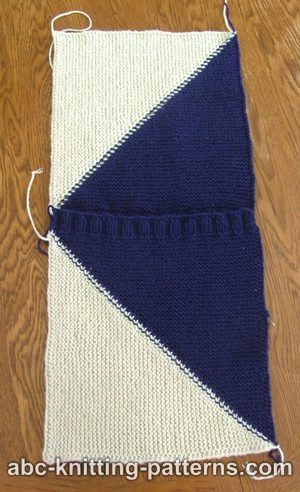 Pick up 22 (24, 26, 28) sts from the marker along the front, 4 (4, 5, 5) sts over the overlapped ribs, puling yarn through both layers, and pick up 22 (24, 26, 28) sts along the side of the back to marker. You have 48 (52, 57, 61) sts for the sleeve.
Work garter sts for 9" (11", 12", 13") [23, 28, 31, 33 cm] or to desired length. To shape the sleeves decrease by 1 st at the beginning and the end of the row ( 2 sts per row) in every 6th row.
Work 8 rows of 2x2 ribbing. Bind off.

Knit the other sleeve the same way, but in the other color.

Finishing

Sew on side and sleeve seams
Pick up sts along the bottom of the sweater with yarn A on circular needles and work 10 rounds of 2x2 ribbing or to desired length. Bind off.
Sew 2 snaps in each shoulder opening.

Enjoy!