Free Cowl Knitting Pattern
Finished size: 11" (28 cm) wide (when folded in half, flat), and 9.5" (24 cm) high.

Materials: Lion Brand Fishermen's Wool [100% wool; 465 yd/458 m per 227g skein] color: Nature's Brown; 1 skein

Needles: US 8 (5.0 mm)

Gauge for stockinette st: 18 sts x 26 rows = 4" x 4" (10 x 10 cm)

Patterns:

Garter Stitch:
All rows knit.

Abbreviations:
yo - yarn over
kfr&b - knit 1 in front and in back

Leaf Edge on 8 sts:
Row 1: (RS) K5, yo, k1, yo, k2.
Row 2: P6, kfr&b, k3.
Row 3: K4, p1, k2, yo, k1, yo, k3.
Row 4: P8, kfr&b, k4.
Row 5: K4, p2, k3, yo, k1, yo, k4.
Row 6: P10, kfr&b, k5.
Row 7: K4, p3, k4, yo, k1, yo, k5.
Row 8: P12, kfr&b, k6 - 20 sts.
Row 9: K4, p4, ssk, k7, k2tog, k1.
Row 10: P10, kfr&b, k7.
Row 11: K4, p5, ssk, k5, k2tog, k1.
Row 12: P8, inc 1, k2, p1, k5.
Row 13: K4, p1, k1, p4, ssk, k3, k2tog, k1.
Row 14: P6, inc 1, k3, p1, k5.
Row 15: K4, p1, k1, p5, ssk, k1, k2tog, k1.
Row 16: P4, inc 1, k4, p1, k5.
Row 17: K4, p1, k1, p6, SK2P, k1.
Row 18: P2tog, bind off 5 sts, p3, k4 - 8 sts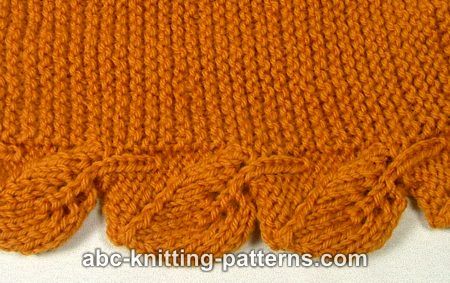 Directions

Cast on 38 sts
Row 1: Knit 30 sts, place a marker. Work Leaf Edge pattern on the remaining 8 sts.
Row 2: make leaf on sts until marker; knit the remaining 30 sts.
Rows 3 through 18: knit 30 sts as established and make LEAF EDGE pattern on the remaining sts.
Repeat rows 1-18 ten times or to desired length.
Bind off

Finishing:
Sew the short edges together.