Free Doll Cape Knitting Pattern
This knitted cape is simply essential for the American Girl Doll intending to go caroling this Christmas Eve! I was inspired by the style of cape often worn in Victorian times.
The cape is knitted sideways and shaped with short rows. If you are just learning to use short rows, this small, simple pattern is a great opportunity to practice the technique. Below, I link to a video that explains how to make short rows.

I made the fur trim using crochet. This is my preference. However, the Finishing section also describes how to do the finish with knitting.

The fun fur trim is optional depending on the look you're going for. If you prefer the cape not to have the trim, finish the cape in exactly the same way, but use the main yarn instead of the fun fur yarn. This would be perfect if you were making your doll a Little Red Riding Hood outfit.
Materials:
Knitpicks Wool of the Andes worsted weight yarn, color Red, 50 g / 100 m (110 yards) - 2 skeins. (A)
Lion Brand Fun Fur Solid Yarn 64 yards (59 meters) / 50 gr- 1 skein. (B)

Needles:  4 (3.5 mm) OR SIZE NEEDED TO OBTAIN GAUGE
Crochet Hook C (2.75 mm)

Gauge: 16 sts x 28 rows = 4" x 4" (10 x 10 cm) for stocking st

Wrap and turn (w&t) in the short rows:
With yarn in front sl 1 stitch to the right needle
Move yarn between the needles to the back
Slip the stitch back to the left needle
Turn the work and bring yarn back to the wrong side between the needles
Selvedge Stitches
The 1st and last stitches of the pattern are selvedge stitches. Selvedge stitches are used to make the edges of the work even and smooth 2. You should slip the first stitch as if to knit and purl the last stitch.

Directions

Cape

Cape is worked sideways with short rows as one piece.

Cast on 35 sts of yarn A
Row 1 (Right side):  purl
Row 2:  knit
Row 3: purl
Row 4: knit
Row 5: sl 1, k 5, w&t
Row 6: purl
Row 7: sl 1, k 10, w&t
Row 8: purl
Row 9: sl 1, k 15, w&t
Row 10: purl
Row 11: sl 1, k 20, w&t
Row 12: purl
Row 13: sl 1, k 25, w&t
Row 14: purl
Row 15: sl 1, k 30, w&t
Row 16: purl
Row 17: purl
Row 18: knit
Row 19: sl 1, k 30, w&t
Row 20: purl
Row 21: sl 1, k 25, w&t
Row 22: purl
Row 23: sl 1, k 20, w&t
Row 24: purl
Row 25: sl 1, k 15, w&t
Row 26: purl
Row 27: sl 1, k 10,w&t
Row 28: purl
Row 29: sl 1, k 5, w&t
Row 30: purl
Row 31: purl
Row 32: knit

Repeat Rows 5-32 8 more times.

Row 229 purl
Row 230 knit
Row 231 purl
Row 232 knit
Cast off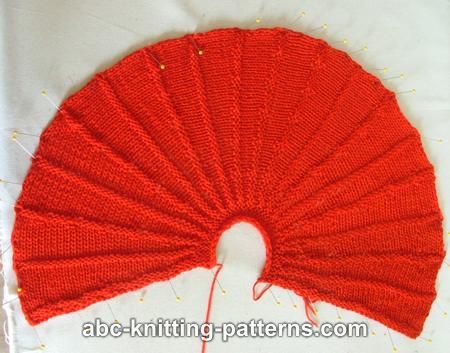 Hood

Cast on 70 sts
Row 1: purl
Row 2: knit
Row 3: sl 1, k 50, w&t
Row 4: p 30, w&t
Row 5: k 40,w&t
Row 6: p 50, w&t
Row 7: k 60, turn
Row 8: sl 1, k 69, turn.
Row 9: purl
Row 10: knit

Repeat rows 3-10 3 more times.

Row 34: purl
Rows 35-36: knit
Rows 37-38: purl
Rows 39-40: knit
Row 41: purl
Cast off.


Finishing:
Fold the hood in half widthwise and sew the back seam.
Sew the hood to the neckline of the cape.
Pick up 3 sts on the right front of the neckline. Make an I-cord 3- 4" long. Pick up 3 sts on the left front of the neckline. Make an I-cord 3- 4" long.
With the yarn B crochet 3 rows of single crochet (sc) along all edges of the cape and the hood.
If you don't crochet, you can achieve a similar look by picking up the sts along the edges of the garment and knitting 4 rows of garter st.

Enjoy!
Back of the cape