Free Headband Knitting Pattern
If you're looking for head gear to match your favorite cabled sweater, but don't want a complete hat, this headband might be perfect for you!
When finished, the headband is double-layered for extra warmth. The headband is knitted sideways with a cable running down the middle and reverse stockinette stitch on either side. It starts out being twice as wide as it needs to be. After the knitting is finished, the headband is joined into a circle and then the top and bottom edges are folded inward along the knitted lines (these are formed using knit sts in the middle of the reverse stockinette stitch). This allows for a very clean top and bottom edges to the headband.

Because the headband is knitted sideways, it is very easy to size as you knit.

This headband is great for a beginner looking to practice their cables!
Skills Required/Techniques Used:
-Knit & purl, cast on & bind off
- Cable

Materials: 100% Wool Lion Brand Fishermen's Wool yarn 465 yd (425 m) / 227g - 1 skein. Color Natural

Needles: 8 (5.0 mm) OR SIZE NEEDED TO OBTAIN GAUGE.

Gauge: 16 st x 18 rows = 4" x 4" (10 x 10 cm) in stockinette stitch

Notions: Cable needle or stitch holder size 4-5 mm, - Yarn needle

Abbreviations:

K – knit
P – purl
St – stitch
Sts - stitches
LC - left cross
LCC – left cross cable
RS – right side
WS – wrong side


Pattern Notes:

Reverse stockinette stitch:
Row 1 (RS): purl
Row 2 (WS): knit
Repeat 2 rows.

3/3 Left Cross Cable (on 6 sts):
Rows 1, 3 (RS): knit.
Rows 2, 4, 6 (WS): purl.
Row 5 (RS): 3/3 LCC - slip 3 sts on a cable needle and hold in front, knit the next 3 sts, return the sts from the cable needle to the left needle, knit them.
Repeat rows 1-6.


The selvedge/edge stitches are worked as follows: slip the first stitch knitwise and purl the last one:


Headband

Use text or chart for work.

Cast on 32 sts.
Row 1 (RS): k1, p7, k1, p4, k6, p4, k1, p8. (= 32 sts)
Row 2 (WS) and all WS rows: sl 1, k7, p1, k4, p6, k4, p1, k7, p1.
Row 3 (RS): sl 1, p7, k1, p4, k6, p4, k1, p8.
Row 5 (RS): sl 1, p7, k1, p4, 3/3 LC, p4, k1, p8.
Repeat rows 1-6.

Knit for 20" (50 cm) or to fit your head circumference. Cast off.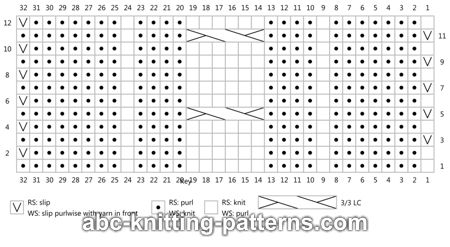 Click image to enlarge


Finishing

Sew the ends of the band to form a tube.
Fold the band edges back and sew them together in the center.

Enjoy!
Pattern was updated on August 8, 2018.