Crochet Summer Bag
Difficulty level:




Easy
Free Bag Crochet Pattern
Materials:J & P Coats (affiliate link) Crochet Nylon Cord 150yd natural - 3 tubes.
J & P Coats (affiliate link) Crochet Nylon Cord 150yd red - 1 tube.
Hook: C (3 mm) OR SIZE NEEDED TO OBTAIN GAUGE
Gauge:
18 dc = 4" (10 cm)
Round Side Panel
Chain 6, join with a sl st to form a ring.
Row 1: ch 3, 12 dc
Row 2: double the amount of dcs: ch 3, 25 dc
Row 3: again double the amount of dcs: ch 3, 51 dc
Continue to add evenly dcs to crochet the following amount of dcs:
Row 4: 66 dc
Row 5: 88 dc
Row 6: 91 dc
Row 7: 94 dc
Row 8: 125 dc
Row 9: 127 dc
Row 10: 158 dc
Row 11: 160 dc
Row 12: 162 dc
Row 13"198 dc
Row 14: 198 dc
Strap with Bottom Panel:
Chain 314
Rows 1-3: dc
To crochet bottom panel crochet 2 rows of 67 dc on both sides of both ends of the strap (see drawing).
Finishing:
Sew on the lining to the side panels (see pictures below)
Join side panels with bottom panel by crocheting 1 row of sc.
Crochet 1 row of sc with red yarn on both sides of the strap and around the side panels.
Decorate the front side panel with crochet flowers, or ribbon embroidery, or any other of your favorite type of decor.
Enjoy!
Comments
There are 1 total comments on this article.
Leave a comment
about the article.
Poster: sashi
April 29, 2012

Good presentation.
Attaching a pocket on the outerside would be beneficial.


More Information
To make the bag rigid, add interfacnig to the lining. Place the finished panels on a piece of fusible heavy-weight interfacing, such as Pellon Peltex.... With a graphic pencil trace the outline of each panel.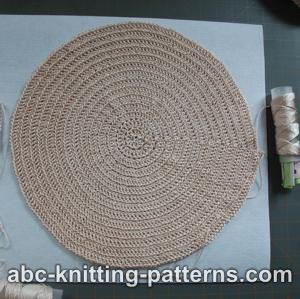 Cut out the pattern about 1/4" smaller than the crocheted panel.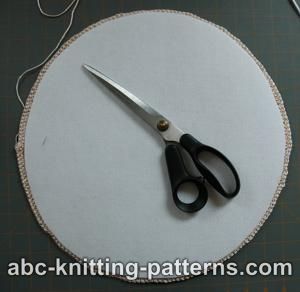 Place the interfacing circles over a piece of cotton and trace its outline. Cut out the circle 1/2" larger than the interfacing. Position the cotton circle over the the interfacing. Fuse with hot iron. Notch the protruding edges of the lining, fold the edges over the interfacing and fuse to the interfacing.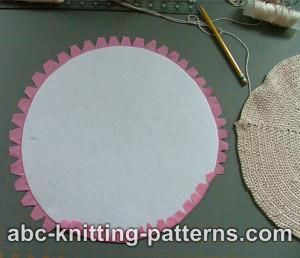 Position the lining over the crocheted panel. Using invisible thread both in the needle and in the bobbin, attach the lining to the panel.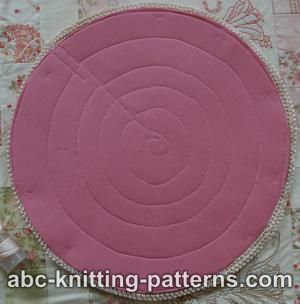 If you liked this pattern, you might also like: