American Girl Doll Red and White Earflap Hat
Difficulty level:




Intermediate
Free Doll Hat Knitting Pattern
This two-tone earflap hat lets your doll bundle up for the winter in style! Features some easy colorwork to add interest.

Skills Required/Techniques Used:
--Knit & purl, cast on & bind off
--Increasing: make 1 (m1)
--Decreasing: knit 2 together (k2 tog)
--Working in the round on double pointed needles
--Working stranded 2-color pattern

Size: fits 18-inch dolls like American Girl, Our Generation and other dolls with similar body.

Materials: Lambs Pride Super Wash by Brown Sheep (affiliate link) Co, sport weight 100% wool yarn 180 yds (165 m)/ 50 g, red as a main color (MC) about 1/3 ball, white as a contrast color (CC) - about 1/3 ball.

Needles: set of 5 double pointed needles US #4 (3.50 mm) OR SIZE NEEDED TO OBTAIN GAUGE

Gauge for stockinette st: 24 st x 28 rows = 4" x 4" (10 cm x 10 cm)

Notions:
- 1 stitch marker
- Yarn needle
- Sewing needle and thread of color matching the yarn for attaching the pom-pom

Abbreviations:
dpn – double pointed needles
K – knit
P – purl
St, sts – stitch, stitches
co – cast on
RS – right side
WS – wrong side
m 1 - make 1 increase - make a backward loop over the right-hand needle and in the next row/round purl/knit it as a regular stitch.
k2 tog - knit 2 stitches together

Pattern Notes:

Stockinette st in rounds:
All rounds knit

Garter stitch in rows: all rows knit.


Short Overview of the Pattern:

The ear flaps are worked separately back-and-forth in garter stitch pattern (all rows knit) first. Then the earflaps are connected with additional cast-on stitches, the work is closed into a round and the hat is worked in rounds in stockinette stitch.


Ear Flaps.

With MC yarn cast on 5 sts,

Rows 1-2: knit till last st, p1

Row 3: k1, m1, k till last st, m1, p1 (=7 sts)

Row 4: knit till last st, p1

Repeat rows 3-4 four more times. Number of sts after rows 11- 12 = 15 sts.

Rows 13-20: k14 p1

Leave the sts on a dpn. Cut yarn.

Make the second earflap, but do not cut yarn. Turn.

Row 21: k15, co 26, k15 sts of the first earflap, turn.

Row 22: knit back 56 sts, co14 and close the work into round. Place a marker at the beginning of the round. = 70 sts

Distribute the sts on 4 dpn.

Rounds 1-6 knit around using the same yarn.

Round 7: using yarn of 2 colors: *k1 red, k1 white - repeat around.

Round 8: knit around with white yarn.

Round 9: repeat round 7.

Alternatively, you can knit rounds 7 and 9 in white (CC), round 8 in red to make narrow stripes.

Rounds 10-12 - knit around with red (MC) yarn. Cut red yarn, continue with white yarn only.

Rounds 13-16 - knit around with white (CC) yarn.


Shaping the Crown:

Round 17: *K8, k2tog - repeat from * 7 times. (63 sts)

Round 19: *K7, k2tog- repeat from * 7 times. (56 sts)

Round 21: *K6, k2tog - repeat from * 7 times. (49 sts)

Round 23: *K5, k2tog - repeat from * 7 times. (42 sts)

Round 25: *K4, k2tog - repeat from * 7 times. (35 sts)

Round 27: *K3, k2tog - repeat from * 7 times. (28 sts)

Round 29: *K2, k2tog - repeat from * 7 times. (21 sts)

Round 31: *K1, k2tog - repeat from * 7 times. (14 sts)

Round 33: *K2tog - repeat from * 7 times. (7 sts)

Cut yarn leaving 10" tail. Pull the tail through all the remaining sts and secure.


Finishing:

Weave in all yarn ends. Make a pom-pom from the remaining yarn and sew it onto the hat. Make 2 braids from both yarns and sew them to the flaps.

Have fun!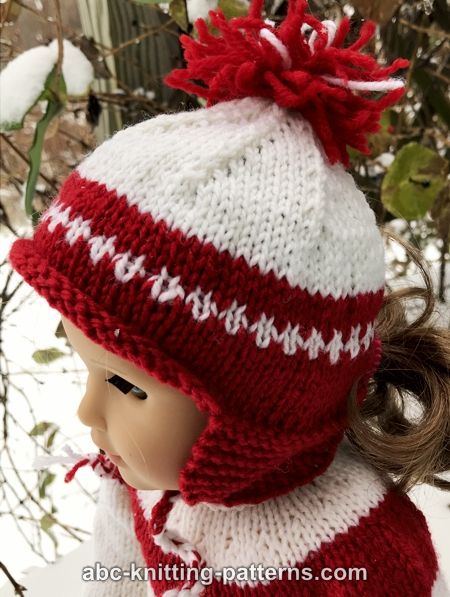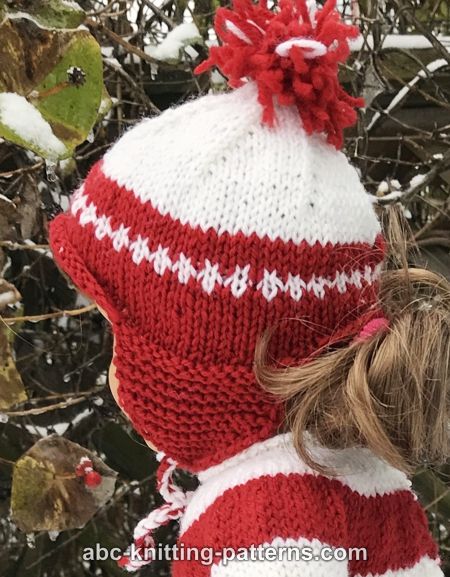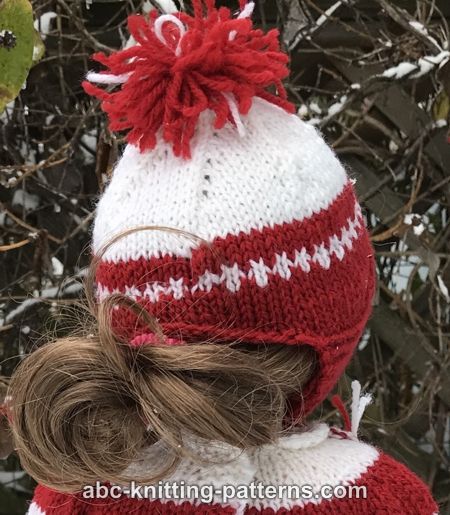 Comments
If you liked this pattern, you might also like:
Browse Similar Items by Category: