Free Hat Knitting Pattern
Knitted with bulky yarn, the hat is warm and comfortable. The body of the hat is knitted sideways and can be made any size.

Skills Required/Techniques Used:
-Knit & purl, cast on & bind off
-Decreasing: knit 2 together (k2tog)
-Working in the round on double pointed needles
-Picking up stitches

Size: Hat circumference is 19 1/2" (50 cm) unstretched; hat stretches to fit most adult heads
Height from edge of brim to top center of crown is 9 1/2" (24 cm)

Materials: Lamb's Pride by Brown Sheep (affiliate link) co, bulky weight yarn (85% wool, 15% mohair), 4 oz./113 grams, approx. 125 yards/114m per skein - 1 skein, color Oatmeal

Needles: straight US 10 1/2 (6.5 mm) and double pointed of the same size for the crown OR SIZE NEEDED TO OBTAIN GAUGE

Gauge: 12 sts x 16 rows = 4" (10 cm) in stockinette st.

Notions:
- 1 stitch marker
- Yarn/tapestry needle

Abbreviations:
dpn – double pointed needles
K – knit
P – purl
k2tog - knit 2 sts together
St, sts – stitch, stitches
pu&k - pick up and knit
as est. - as established, work as the pattern demandsco – cast on
RS – right side
WS – wrong side
sm - slip marker

The selvedge/edge stitches are worked here as follows: slip the first stitch and purl the last one.


Short Overview of the Pattern

The body of the hat is worked sideways, like a scarf, on straight needles, then the short sides are seamed together or connected using the 3-needle bind-off method to form a tube. The top is shaped by picking up stitches along the upper edge of the tube; it's worked on double-pointed needles in the round.


Hat

On straight needles, cast on 26 sts. If you are going to use 3-needle bind-off method, use a provisional cast-on.

Row 1 (RS): sl1, p4, *k2, (p1, k1) twice, p1 - repeat from * 2 times, k2, p5. = 26 sts

Row 2 (WS): sl1, k4, *p3, (k1, p1) twice - repeat from * 2 times, p2, k4, p1 = 26 sts

Repeat row 1-2 until the working piece is 19 1/2" long. Check that it fits your head, add more rows if necessary. Bind off. Sew the short edges to form a tube/headband.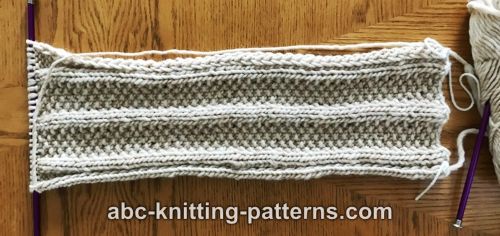 Shaping the Top

Working with the upper side of the tube, on dpn, pu&k 42 stitches from the second sts from the edge. Distribute the sts evenly on dpn. Place a marker to mark the beginning of the round, slip the marker while working.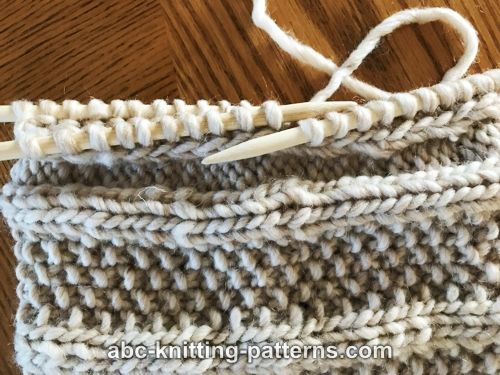 Round 1: knit = 42 sts

Round 2: *k5, k2tog - repeat from * 6 times = 36 sts

Round 3: k36

Round 4: *k4, k2tog - repeat from * 6 times = 30 sts

Round 5: k30

Round 6: *k3, k2tog - repeat from * 6 times = 24 sts

Round 7: k24

Round 8: *k2, k2tog - repeat from * 6 times = 18 sts

Round 9: k18

Round 10: *k1, k2tog - repeat from * 6 times = 12sts

Round 11: *k2tog - repeat from * 6 times = 6 sts

Cut yarn, leaving a 10" (25 cm) tail. Pull through all the remaining sts and secure.


Finishing

Weave in yarn ends.

Have fun!