American Girl Doll Tuileries Garden Sweater
Difficulty level:




Easy
Free Doll Sweater Knitting Pattern
For this mohair sweater, I was going for an everyday elegant look. Something one might wear strolling around the Tuileries Garden in Paris on a summer day.

The sweater has raglan sleeves and a lace motif on the front that I decorated with small plastic pearls.

Materials: Super Kydd by Elann lace weight yarn (70% Super Kid Mohair 30% Nylon) 25 g 237 m/259 yds – 1 ball
4-6 stitch markers,
2 pieces of waste yarn,
6 small plastic pearls (glass pearls are too heavy!)
6 plastic or metal sew-on snaps.

Needles: US # 2 (2.75 mm) circular needles and double pointed needles (dpn) for sleeves , OR SIZE NEEDED TO OBTAIN GAUGE

Gauge for stockinette
24 sts x 36 rows = 4" x 4" (10 cm x 10 cm)

Abbreviations:
k - knit
p - purl
ssk – slip, slip, knit (left slanting decrease)
k2tog – knit 2 together
sl1-k2tog-psso - slip the first st, knit the next 2 together, return this stitch on the left needle, pass the slipped stitch over the next st.
pu&k- pick up and knit
yo – yarn over
RS - right side
WS - wrong side
Bb – button band

Pattern Notes:

Stockinette in rows:
Row 1 (RS): knit
Row 2: purl
Repeat 2 rows.

Garter st in rows:
All rows knit

Garter Stitch in rounds:
Round 1: purl
Round 2: knit
Repeat 2 rounds.

Cat Paw Lace:

Multiple of 7:
Row 1: k1, k2tog, yo, k1, yo, ssk, k1.
Row 2 and all even rows (WS) purl.
Row 3: k2tog, yo, k3, yo, ssk.
Row 5: k2, yo, sl1-k2tog-psso, yo, k2
Repeat rows 1-6

The selvedge/edge stitches are worked as follows: slip the first st and purl the last one.

Raglan increases: are made before and after the raglan line by yarn over (yo) in each odd row (RS), in even rows yo is purled.

Button band (bb) is worked in garter stitch on 3 stitches in the beginning and 3 stitches in the end of the row, knit these stitches in all rows.


Sweater

The sweater is worked top-down back-and-forth with raglan sleeves, with lace on the front and button band on the back. The sleeves are worked in the round on dpn.

On circular needles, cast on 55 sts, work 2 rows in garter stitch.

Distribute the stitches in the following way:
1 selvedge - 3 button band - 5 right back - 1 raglan (place a marker) - 10 right sleeve - 1 raglan (place a marker) - 13 front - 1 raglan (place a marker) - 10 left sleeve - 1 raglan (place a marker)-5 left back - 3 bb - 1 selvedge

Continue to work in stockinette: knit all odd rows (RS) and purl the even rows (WS), do not forget about the button band (always knit!), yo before and after each raglan stitch in all right side rows. Work 2 rows, (3 and 4).

In row 5, start working the lace pattern on the front:

Row 5: sl 1 (edge), k 9, yo, k1 (raglan), yo, k12 (sleeve), yo, k1 (raglan), yo, front: k 4, work the lace pattern on the next 7 sts (you might want to place markers before and after the lace pattern, k4, yo, k1 (raglan), yo, k 12 sleeve, k 9, p1 (edge).

Work as established 18 more rows.


Divide for sleeves and bodice:

Row 23: sl 1, k 20, transfer the next 30 sts to a piece of waste yarn, cast on 3, k 14 - work the lace on 7 sts – k 14, transfer the next 30 sts to a piece of waste yarn, cast on 3, k 20, p 1.

Work as established 16 rows, or to desired length. Work 4 more rows in garter stitch. Bind off.


Sleeves

Transfer 30 sts to dpn, distribute them evenly, pu&k 3 sts underarm. Mark the beg of the round. Work 4 rounds in garter stitch, bind off.

Finishing

Weave in the yarn ends. Sew snaps to the button band. Sew pearls to the centers of the lace panel.

Have fun!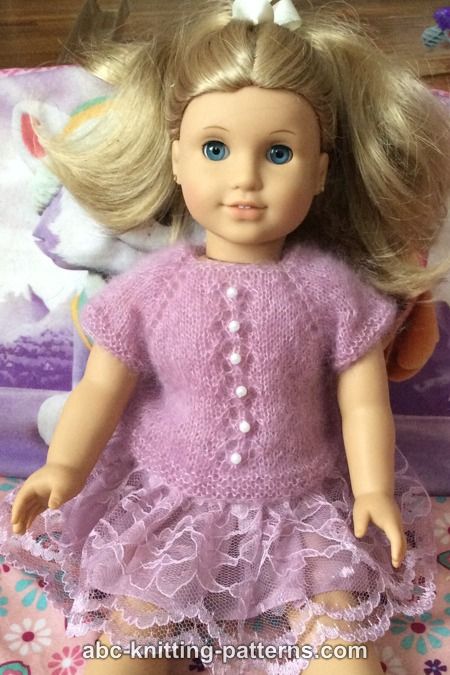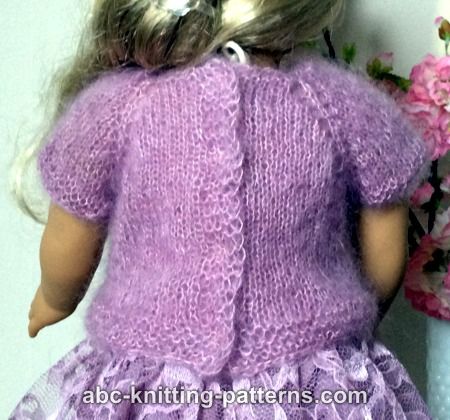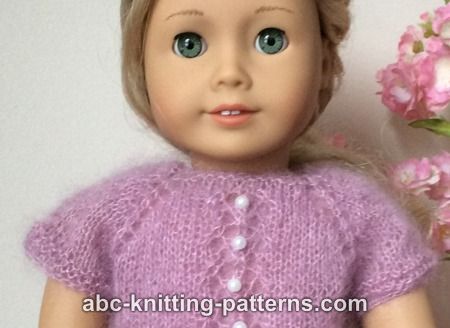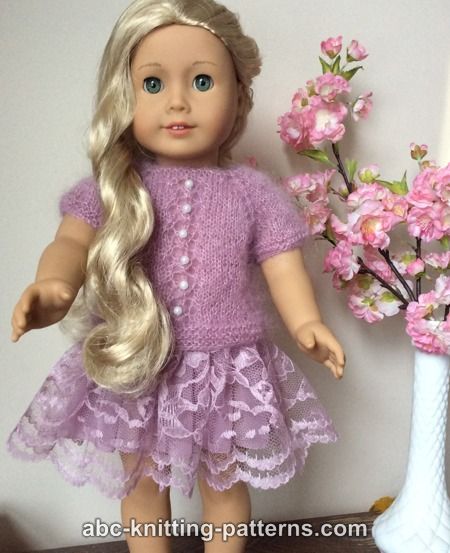 Comments
There are 2 total comments on this article.
Leave a comment
about the article.
Poster: Christina Pender
October 9, 2017

Having trouble with number of stitches. Not working out. Has anybody else tried it? Let me know what you did, please! Have a 90 year old woman (good knitter) agonising over it.
Poster: Teri Ontkean
August 10, 2017

I just this pattern and have created two sweaters already. I did put in buttonholes on my second sweater. I am using Patons sequin lace fuzzy yarn....now if only I could get into my sewing room to complete the skirts !!
If you liked this pattern, you might also like:
Browse Similar Items by Category: