Free Cowl Knitting Pattern
I knitted this cowl to match the Brick Road Seamless Sideways Sweater, but of course it works well on its own.

The cowl features a button closure for a snug fit and stylish look. It is knitted along the long side. This means the length is easy to adjust from the get-go. It features a 2-Color Brick motif.


FINISHED SIZE
length 22" (55 cm), height 6" (15 cm)

Materials: Knitpicks Wool of the Andes Worsted Yarn, color Black, 50 g / 100 m (110 yards) - 1 skein. (MC)
Noro Kureyon [100% wool; 110 yd/101 m per 50g skein] color - 1 skein (CC)
3 ¾" buttons

Needles: US 6 (4.0 mm) straight OR SIZE NEEDED TO OBTAIN GAUGE

Gauge for stockinette st:
18 sts x 24 rows = 4" x 4" (10 cm x 10 cm)
For cowl the gauge is not very important.

Pattern Notes

Garter st in rows:
All rows - knit

2-Color Brick pattern

Multiple of 10 plus 6
Row 1 (MC): knit
Row 2 (MC): knit
Row 3 (CC): k 2, *sl2 wyib, k8, repeat from * across to last 4 sts, sl2 wyib, k2
Row 4 (CC): p2, *sl2 wyif, p8, repeat from * across to last 2 sts, sl2 wyif, p2.
Row 5 (CC): repeat row 3.
Row 6 (CC): repeat row 4.
Rows 7-10 (MC): knit
Row 11 (CC): k7, *sl2 wyib, k8, repeat from * across ending with k7.
Row 12 (CC): p7, *sl2 wyif, p8, repet from * across ending with p7.
Row 13 (CC): repeat row 11.
Row 14 (CC): repeat row 12.
Rows 15-18 (MC): knit
Rows 19-22 (CC): repeat rows 3-6.
Rows 23-24 (MC): repeat rows 1-2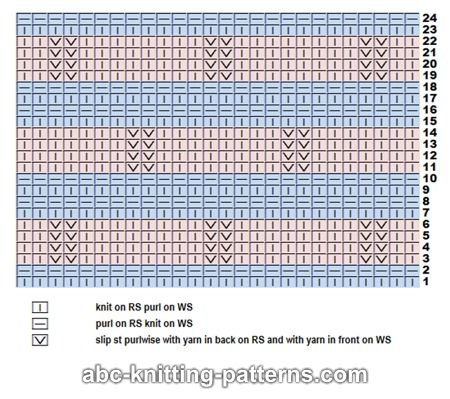 Click image to enlarge
Abbreviations:
k - knit
p – purl
sl2 wyib - slip 2 with yarn in back
sl2 wyif - slip 2 with yarn in front
ssk - slip, slip, knit (left leaning decrease)
k2tog – knit 2 together (right leaning decrease)
M1 (Make 1 increase) - I used the increase described by Elizabeth Zimmerman: Make a backward loop over the right-hand needle and in the next row knit (purl) it as a regular stitch.
RS – right side
WS – wrong side

Selvedge stitches: first st slip as if to knit, last st purl


Cowl

The cowl is worked flat, back and forth and has a button closure.

Cast on 98 sts (multiple of 10 plus 6 plus 2 selvedge sts). If you would like larger of smaller cowl add or subtract multiple of 10 sts.
Rows 1-3: garter st (all rows knit)
Rows 4-57: work 2-Color Brick pattern rows 1-18, repeat them total 3 times.
Rows 58-59: knit.
Bind off.

Finishing

Pick up 25 stitches along the 1 short end of the cowl and work 10 rows of garter st. Bind off.
Pick up 25 sts at the other end of the cowl and work garter st for 10 rows. In row 6 work as follows: 1 selvedge st, k3, *yo, k2tog, k7,, from * repeat 1 more time, yo, k2tog, k3, p1 (selvedge st).
Bind off.
Sew on 3 buttons.

Enjoy!