Free Doll Dress Knitting Pattern
This outfit (see hat pattern here) was loosely inspired by traditional Scandinavian styles. Long-sleeved, long-skirted dresses were traditionally popular. Often, they are decorated along the bottom of the skirt with embroidery and lace patterns. I chose to use Nordic / Fair Isle colorwork instead. Not quite as traditional for the dresses, but it does come from Scandinavia and is a much better fit for a knitting pattern!

I repeated the same motif for the hat, and worked a narrow band of Nordic-style colorwork around the yoke of the dress to offset the skirt.

Add a vest to complete the style!

If you are experienced with Nordic-style colorwork, you can substitute any 17-st colorwork pattern for the one that I used.
You can purchase this dress from our Etsy store!

Materials: Knit Picks Palette fingering weight 100% wool yarn 231 yds (210 m)/ 50 g color white (main color) - 1 ball, red (contrast color) 1/3 ball
5 small metallic or plastic sew-on snaps

Needles: US # 1 (2.25) circle and dpn

Crochet hook 2.25 mm (for belt, optional)

Gauge for stockinette st: 28 sts x 36 rows = 4" x 4" (10 cm x 10 cm)

Abbreviations:
k - knit
p - purl
psso - Pass slipped stitch over (slip 1 st knitwise to the right needle, knit the next 2 sts together, pass the slipped stitch over (2 sts decrease).
k2tog tbl - knit 2 together through back loop
kfr&b - knit into front and back
w&t - wrap and turn
pu&k- pick up and knit
yo - yarn over
m1 - make 1 increase - I used the increase described by Elizabeth Zimmerman: make a backward loop over the right-hand needle and in the next row/round purl/knit as a regular stitch.
RS - right side
WS - wrong side

Pattern Notes:

Stockinette in rows:
Row 1 (RS): knit
Row 2: purl
Repeat 2 rows.

Stockinette in rounds:
All rounds knit.

Garter Stitch in rows:
All rows knit.

Garter st in rounds
Round 1: knit
Round 2: purl
Repeat 2 rounds

The selvedge stitches are worked as follows:
slip the first st and purl the last st.
Color patterns are worked by scheme.


Dress

Dress is worked top down in one piece with round yoke, first back and forward, with button band on the back, then in the round. The button band is worked on 3 stitches in garter stitch.

With main color cast on 52 sts: 1 edge st (knit), 3 button band (always knit), 44 yoke (knit in the odd rows and purl in the even rows), 3 button band (always knit), 1 edge (purl).

All odd rows are right side (RS), even rows are wrong side (WS.)
Work 2 rows in stockinette (button bands in garter stitch).

Row 3: k4, *k2, m1 - repeat from * 22 times, k3, p1 = 74 sts
Work as established 3 more rows.

Row 7: k6, *k2, m1 - repeat from * 31 times, k5, p1 = 105 sts

Row 8: k4, p 97, k3, p1

Rows 9-12: k4, work according to diagram A, k3, p1

Rows 13-18: work in main color as established.


Divide for sleeve and bodice:

Row 19: k 18 (right back), transfer 20 (sleeve) to a lengh of yarn, cast on 3 sts, k 29 (front), transfer 20 (sleeve) to a lengh of yarn, cast on 3 sts, k 17, p 1.

Row 20: k4, p 63, k3, p1 = 71 sts

Work as established 12 more rows (21-32).

Row 33: k4, *k2, m1 - rep 31 times, k4, p1 = 102 sts

Work rows 34 - 46 as est.

Row 47 / Round 1: Work row 47 as established, till the last 4 stitches, transfer the last 4 sts of the button band to a spare needle, position it over the beginning 4 sts of the button band, left and spare needle in left hand. Insert the right needle in the first stitch on the spare needle, then in the first stitch on the left needle and knit both sts together. Repeat with the remaining 3 sts. Place a marker between the sts of the button band - leave 2 sts in the end of the round and 2 sts in the beginning of the round.

Round 2: *k2, m1 - rep 49 times = 147 sts. Work as established 20 more rounds.

The snowflake pattern is a multiple of 17. The closest multiple of 17 to 147 is 153. So in the next round, you will need to evenly add 6 stitches – work m1 every 24 stitches.

Work snowflake pattern according to diagram B.

After the pattern, work 4 rounds in garter stitch. Bind off. Cut yarn.


Sleeve

Transfer 20 sts from the waste yarn to dpn, pu&k 3 sts over underarm sts. Work in the round on dpn in stockinette for 44 rounds, work 4 more rounds in garter st. Bind off, Cut yarn.


Collar

Pu&k 52 stitches along the neckline. Work 12 rows in stockinette. Bind off. Cut yarn.


Belt

With red yarn crochet a chain 16" long. Make 2 small tassels and attach to the ends of the belt. If you do not crochet, knit the belt in garter stitch on 3 stitches.


Finishing

Weave in yarn ends. Block. Sew on snaps on the button band.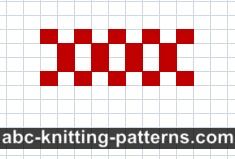 Diagram A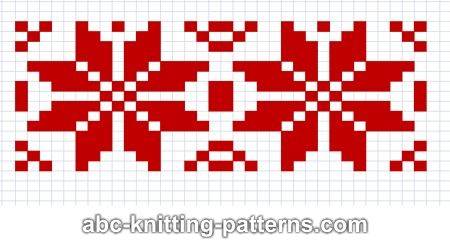 Diagram B
Click image to enlarge