Free Lace Scarf Knitting Pattern
The scarf is knitted in the round, with mitered decreases at both ends. This pattern is good with self-striping yarn that has long color changes.

Size: Length - 12" (30 cm), width - 56" (140 cm)

Materials: Kauni (affiliate link) 8/2 Effektgarn 100% Wool sport weight yarn 440 yd (400 m)/100g, color EJ pink-beige - 0.5 skein.

Needles: US 10 (6.0 mm) circular needles 40" (100 cm)
US 13 (9.0 mm)

Gauge: 12 st (1 pattern repeat) = 4" (10 cm) blocked

Abbreviations:

k - knit
yo - yarn over
ssk - slip, slip knit. This is a left-slanting decrease.
k2tog - knit 2 tog. This is a right-slanting decrease.
s2kp2 - slip 2 sts as if to k2tog (knit 2 tog), k 1, p2sso (pass 2 slip sts over). This is a centered double decrease
sk2p - slip 1 st, knit 2 tog, psso (pass slipped st over). This is a left-slanting double decrease.
k3tog - knit 3 tog. This is a right-slanted double decrease.
pm - place marker

Lace pattern (in rounds)

Multiple of 12 sts

Cast on and knit 1 row.

Round 1: k 1, yo, k 4, s2kp2, k 4, yo
Round 2 and all even rows: knit all sts and yos.
Round 3: k 2, yo, k 3, s2kp2, k 3, yo, k 1
Round 5: k 1, yo, ssk, yo, k 2, s2kp2, k 2, yo, k2tog, yo
Round 7: k 2, yo, ssk, yo, k 1, s2kp2, k 1, yo, k2tog, yo, k 1
Round 9: k 3, yo, ssk, yo, s2kp2, yo, k2tog, yo, k 2
Round 11: k 4, yo, ssk, k 1, k2tog, yo, k 3
Round 13: k 5, yo, s2kp2, yo, k 4
Round 15-21: k 1, yo, sk2p, k 2, yo, k 1, yo, k 2, k3tog, yo
Round 23: k 2, yo, ssk, k 5, k2tog, yo, k 1
Round 25: k 1, yo, ssk, yo, ssk, k 3, k2tog, yo, k2tog, yo
Round 27: k 2, yo, ssk, yo, ssk, k 1, k2tog, yo, k2tog, yo, k 1
Round 29: k 1, yo, ssk, yo, ssk, yo, s2kp2, yo, k2tog, yo, k2tog, yo
Round 31: k 2, yo, ssk, yo, ssk, k 1, k2tog, yo, k2tog, yo, k 1
Round 33: k 1, yo, ssk, yo, ssk, yo, s2kp2, yo, k2tog, yo, k2tog, yo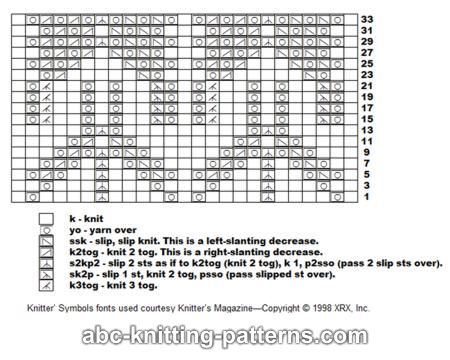 Click image to increase


Mitered Corners pattern

Round 1: k 1, yo, k 4, (s2kp2, k 4, yo, k 1, yo, k 4, s2kp2, k 9, s2kp2, k 4, yo, k 1, yo, k 4) twice, s2kp2, k 4, yo
Round 2 and all even rounds: knit all sts and yos
Round 3: k 2, yo, k 3, (s2kp2, k 3, yo, k 3, yo, k 3, s2kp2, k 7, s2kp2, k 3, yo, k 3, yo, k 3) twice, s2kp2, k 3, yo, k 1
Round 5: k 1, yo, ssk, yo, k 2, (s2kp2, k 2, yo, k2tog, yo, k 1, ssk, yo, k 2, s2kp2, k 5, s2kp2, k 2, yo, k2tog, yo, k 1, yo, ssk, yo, k 2) twice, s2kp2, k 2, yo, k2tog, yo
Round 7: k 2, yo, ssk, yo, k 1, (s2kp2, k 1, yo, k2tog, yo, k 3, yo, ssk, yo, k 1, s2kp2, k 3, s2kp2, k 1, yo, k2tog, yo, k 3, yo, ssk, yo, k 1) twice, s2kp2, k 1, yo, k2tog, yo, k 1
Round 9: k 3, yo, ssk, yo, (s2kp2, yo, k2tog, yo, k 5, yo, ssk, yo, s2kp2, k 1, s2kp2, yo, k2tog, yo, k 5, yo, ssk, yo) twice, s2kp2, yo, k2tog, yo, k 2
Round 11: k 4, yo, ssk, (k 1, k2tog, yo, k 7, yo, ssk, s2kp2, k2tog, yo, k 7, yo, ssk) twice, k 1, k2tog, yo, k 3
Round 13: k 5, yo, (s2kp2, yo, k 9, s2kp2, k 9, yo) twice, s2kp2, yo, k 4
Round 15: k 1, yo, sk2p, k 2, yo, (k 1, yo, k 2, k3tog, yo, k1, yo, sk2p, k 3, k3tog, yo, k 1, yo, sk2p, k 2, yo) twice, k 1, yo, k 2, k3tog, yo
Round 17: k 1, yo, sk2p, k 2, yo, (k 1, yo, k 2, k3tog, yo, k1, yo, sk2p, k 1, k3tog, yo, k 1, yo, sk2p, k 2, yo) twice, k 1, yo, k 2, k3tog, yo
Round 19: k 1, yo, sk2p, k 2, yo, (k 1, yo, k 2, k3tog, yo, k1, yo, s2kp2, yo, k 1, yo, sk2p, k 2, yo) twice, k 1, yo, k 2, k3tog, yo
Round 21: k 1, yo, sk2p, k 2, yo, (k 1, yo, k 2, k3tog, yo, k1, s2kp2, k 1, yo, sk2p, k 2, yo) twice, k 1, yo, k 2, k3tog, yo
Round 23: k 2, yo, ssk, k 2, (k 3, k2tog, yo, k 1, s2kp2, k 1, yo, ssk, k 2) twice, k 3, k2tog, yo, k 1
Round 25: k 1, yo, ssk, yo, ssk, k 1, (k 2, k2tog, yo, k2tog, k 1, ssk, yo, ssk, k 1) twice, k 2, k2tog, yo, k2tog, yo
Round 27: k 2, yo, ssk, yo, ssk, (k 1, k2tog, yo, k2tog, k 1, ssk, yo, ssk) twice, k 1, k2tog, yo, k2tog, yo, k 1
Round 29: k 1, yo, ssk, yo, ssk, yo, (s2kp2, yo, k2tog, k 1, ssk, yo) twice, s2kp2, yo, k2tog, yo, k2tog, yo
Round 31: k 2, yo, ssk, yo, ssk, (k 1, k2tog, k 1, ssk) twice, k 1, k2tog, yo, k2tog, yo, k 1
Round 33: k 1, yo, ssk, yo, ssk, yo, (s2kp2, k 1) twice, s2kp2, yo, k2tog, yo, k2tog, yo
Round 34: k 5, s2kp2, s2kp2, k 5

Click image to increase


Scarf

Cast on 432 st using TWO US 13 (9.00) needles. This is important to ensure that the edge of the scarf does not bunch up. Change to smaller needles. Join and continue to work in rounds. Purl 1 round. While working this round place markers at the beginning of the round and 4 more markers to mark the beginning and the end of the mitered corner repeats.
P 60 sts, pm, p 84, pm, p 132, pm, p 84, pm, p 72
Now work lace pattern on the long sides of the scarf and work mitered corner pattern at short ends. (See diagrams)
Round 1: repeat lace pattern 5 times, knit mitered corner pattern, repeat lace pattern 11 times, knit mitered corner, repeat lace pattern 6 times.
Work 34 rounds. Don't bind off

Finishing
Transfer the stitches to 2 long circular needles (or to several circular needles) to make sure there is enough length to hold all stitches. Block the scarf, positioning it as shown on the picture below.
After the blocking, graft the open stitches.
Have fun!