American Girl Doll Evening Dress with Train
Difficulty level:




Easy
Free Doll Dress Knitting Pattern
Materials: Patons Glam Stripes sport weight yarn, 261 yds/239 m 2.1 oz/60g acryllic/polyester - 1,5 balls.
8 small silver buttons (8mm diameter)

Needles: US 2 (2.75mm) circular needles OR SIZE NEEDED TO OBTAIN GAUGE
Hook: C (2.75 mm)

Gauge for stockinette stitch: 26 st x 34 rows = 4" x 4" (10 x 10 cm)

Abbreviations:
co - cast on
pu&k- pick up and knit;
kfr&b - knit front and back
w&t - wrap and turn
Srow - short row
m1 - Make 1 increase - I used the increase described by Elizabeth Zimmerman
Make a backward loop over the right-hand needle and in the next row/round purl/knit as a regular stitch.

Pattern Notes:

Stockinette Stitch in rows:
1st row and all odd rows - knit sts
2nd row and all even rows - purl sts

Stockinette Stitch in rounds:
knit all rounds

Rib 1x1 in rows:
1st row and all odd rows - *k 1, p 1 - repeat from * across
2nd row and all even rows - *k 1, p 1 - repeat from * across

Garter st in rounds
Round 1: knit
Round 2: purl
Repeat 1-2 rounds


Wrap and turn (w&t) in the short rows:
With yarn in front sl 1 stitch to the right needle
Move yarn between the needles to the back
Slip the stitch back to the left needle
Turn the work and bring yarn back to the wrong side between the needles
Edge stitches: knit the first st and purl the last st in the row

Dress

The dress is worked from the top to below the waist, back and forth with a back fastening.
Then it's worked in rounds.
The button band is crocheted.

Bodice:
Co 76 sts and work 18 rows in 1x1 rib.

Skirt:
Row 1: k1 (edge st), *k2, kfr&b - repeat from * across the row to the last 3 sts, k2, p1 = 100 sts
Row 2-20: All even rows purl. All odd rows knit.
Row 21: knit across, m1 and close into round, this is the first st round of the skirt.
Place a marker on the st you just made. = 101 sts
Knit all rounds, work 49 rounds. In the next 20 even rounds (50, 52, 54, 56, 58, 60, 62, 64, 66, 68, 70, 72, 74, 76, 78, 80, 82, 84, 86, and 88) make 1 st before and after the marked st.
Round  89: knit = 140 sts
Short rows to shape the train:
Round 90: k 1 (the marked st), m1, k 65, w&t (the first short row);
         Srow 2: p 66 - p 1  marked st - p 65, w&t;
         Srow 3: k 65, m 1, k1, m1, k 60, w&t;
         srow 4: p 60, p 1 marked, p 60 , w&t;
         Srow 5: k 61, m 1, k1, m1, k 55, w&t;
         Srow 6: p 56, p 1, p 56, w&t;
         Srow 7: k 56, m 1, k1, m1, k 50, w&t;
         Srow 8: p 51, p 1,p 51, w&t;
         Srow 9: k 51, m 1, k1, m1, k 45, w&t;
         Srow 10: p 46, p 1, p 46, w&t;
         Srow 11: k 46, m 1, k1, m1, k 40, w&t;
         Srow 12: p 41, p 1, p 41, w&t;
         Srow 13: k 41, m 1, k1, m1, k 35, w&t;
         Srow 14: p 36, p 1, p 36, w&t;
         Srow 15: k 36, m 1, k 1, m 1, k 30, w&t;
         Srow 16: p 31, p 1, p 31, w&t;
         Srow 17: k 31, m 1, k 1, m 1, k 25, w&t;
         Srow 18: p 26, p 1, p 26, w&t;
         Srow 19: k 26, m 1, k 1, m 1, k 20, w&t;
         Srow 20: p 21, p 1, p 21, w&t;
         Srow 21: k 21, m 1, k 1, m 1, k 15, w&t;
         Srow 22: p 16, p 1, p 16, w&t
         Srow 23: k 16, m 1, k 1, m 1
Round 91: knit across, pick up all wraps and knit them together with the st around which they are wrapped.
Rounds 92, 94 and 96 purl
Rounds 93, 95, 97 knit. Bind off.

Shoulder straps worked to and back in stockinette st:
Position the dress flat, with its front facing, bodice part open. Count from the left corner of the
bodice 23 sts. Pu&k 7 sts, in the next 7 sts of the bodice's edge, purl back.
In the next row kfr&b in all st across = 14 sts.
All even rows purl, all odd rows knit. Work 32 rows, bind off.
Now count from the right corner of the bodice 30 sts. Pu&k 7 sts, from right to left in the 7 sts of the bodice's edge, purl back. Further work as the left strip.

Finishing:

Crochet the button band on the right back: *3 sc, 3 ch, rep to the end of the row.
Sew 8 buttons to the left edge of the back.

Block the dress or lightly press it with an iron. Sew the shoulder strips to the back of the bodice.

Enjoy!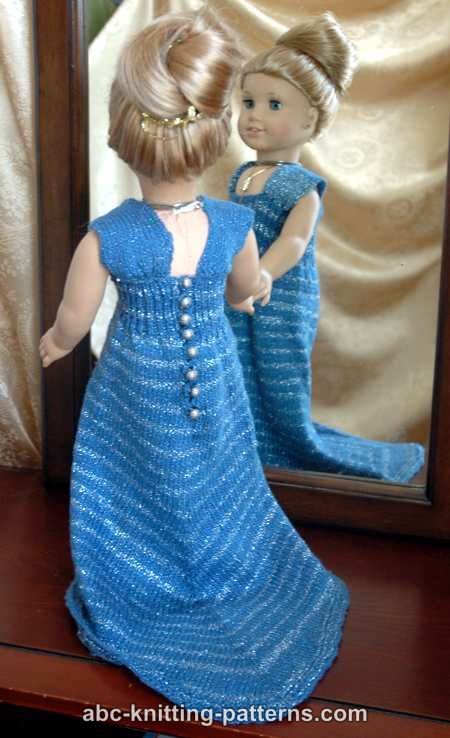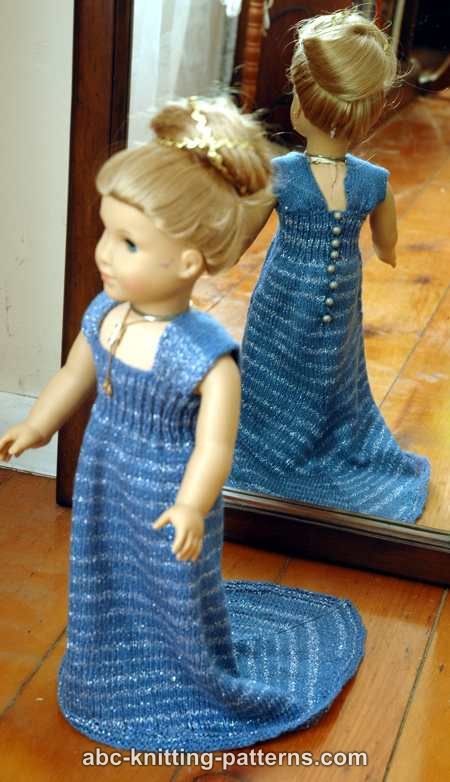 Comments
There are 10 total comments on this article.
Leave a comment
about the article.
Poster: Karen
November 17, 2017

I'm down to finishing, but the instructions on the buttons and closing the back are slim to none. Any thoughts?
Poster: Kath Wilmott
April 22, 2016

Does anyone know how big the outfit/doll is, please?
Poster: Rose Ann Smith
June 29, 2016

American girl doll size
Poster: KathleenLarkin
April 19, 2018

I have 2dolls they are 14inches I have no patterns for them
Poster: Kath Wilmott
May 14, 2018

Thank you for the info. I didn't know the size of an American doll! Garment finished!
Poster: Kath Wilmott
April 21, 2016

I am going to knit this dress for a knitted rabbit! It is roughly 14". Will this dress be okay, because it doesn't give any measurements? Thanks.
Poster: Rose Ann smith
March 3, 2015

Made this dress in shimmering purple with silver yarn. Plus added some sparkly complementary yarn at base of train and sleeves. It was lovely! Only tricky part was wrap and turn which learned from YouTube. Train required counting stitches on each row. Not difficult but required concentration because you are dealing with a lot of stitches on small needles. Lovely result!
Poster: Maureen
July 13, 2015

Did you use the suggested yarn? I did not. However, even tho my gauge was accurate I found the dress to be about THREE inches too long. Would love to hear from you re your dress.
Poster: Monnie
June 3, 2016

If I stopped knitting 3 inches early, would the train that they show in the picture still work out on the doll, or would I have to eliminate the train part of the dress? Thx ahead of time!
Poster: Linda
February 7, 2015

I am having trouble with the w&t. Not sure I know what it means. I am just starting the train.
Thank you for your assistance

Linda
If you liked this pattern, you might also like:
Browse Similar Items by Category: