The Cubist Short Row Beanie
Difficulty level:




Easy
Free Hat Knitting Pattern
Introducing the Cubist Short Row Beanie, a unique and versatile knitting pattern that will have you crafting a stylish and cozy hat in no time! This beanie is worked sideways, allowing you to customize the size to your liking while also creating a fun and modern design. Using a combination of black yarn and Noro (affiliate link) self-striping yarn, the Cubist Short Row Beanie is both eye-catching and practical. The hat is shaped with short rows, adding an extra element of interest to the pattern. Whether you're a seasoned knitter or a beginner looking to try something new, this pattern is perfect for you. So grab your needles and get ready to create a one-of-a-kind accessory that will keep you warm and fashionable all season long!
SIZE any

Finished size: 8" (20 cm) high, since the hat is knitted sideways, it can be made for any head circumference.

MATERIALS
Noro (affiliate link) Kureyon [100% wool; 110 yd/101 m per 50g skein] color: 250; 1 skein (A)
Elann (affiliate link).com Peruvian Highland Wool [100% Wool; 109 yd /100 m per 50g skein]; color: Black; 1 skein (B)


Needles: 1 set of US #6/4.0 mm straight needles

GAUGE: 16 sts x 24 rows = 4"x 4" (10 cm x 10 cm) in stockinette stitch

PATTERN NOTES

Wrap and turn in the short rows:
With yarn in front sl 1 stitch to the right needle
Move yarn between the needles to the back
Slip the stitch back to the left needle
Turn the work and bring yarn back to the wrong side between the needles

Chain Selvedge.

The bottom of the hat is finished with chain selvedge.
To work chain selvedge slip the first stitch of every row purl-wise and purl the last stitch of every row. The selvedge stitches are not mentioned in the instructions below and are not counted in the stitch count.

Directions

The hat is worked sideways and shaped with short rows.

Cast on 32 st using provisional cast on method.

Black yarn
Row 1: knit
Row 2: purl
Row 3: knit

Noro (affiliate link) yarn
Row 4: knit
Row 5: p 28, wrap, turn
Row 6: knit
Row 7: p 26, wrap, turn.
Row 8: knit
Row 9: p 24, wrap, turn.
Row 10 knit
Row 11: p 22, wrap, turn.
Row 12: knit
Row 13: purl to the end of the row

Black yarn
Rows 14-15: knit
Row 16: purl
Row 17: knit
Row 18: purl
Row 19: knit

Repeat rows 4-19 to desired head circumference. For 22" (55 cm) hat make 10 repeats.

End with
Black yarn
Knit 2 last rows. Transfer stitches to a stitch holder

Top

With black yarn pick up 50 st along the top of the hat: 3 st over the black wedges and 2 st between the black wedges.
Row 1 (right side): *p3tog stitches picked up over black wedges, p2, repeat from * to the end of the row
Row 2: knit
Row 3: purl
Row 4: knit
Row 5: *p2tog, p1, repeat from * to the end of the row.
Row 6: knit.
Row 7: p2tog, repeat to the end of the row.
Row 8: knit.
Cut yarn, leaving a 10" (25 cm) tail. Pull through all the sts and secure.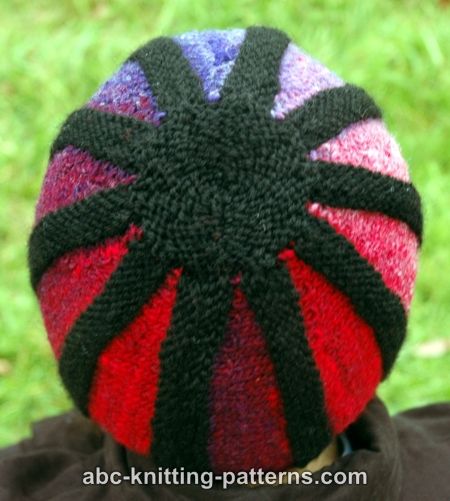 Finishing

Remove the waste yarn from the cast on and join the ends of the cowl with the Kitchener stitch.
Enjoy!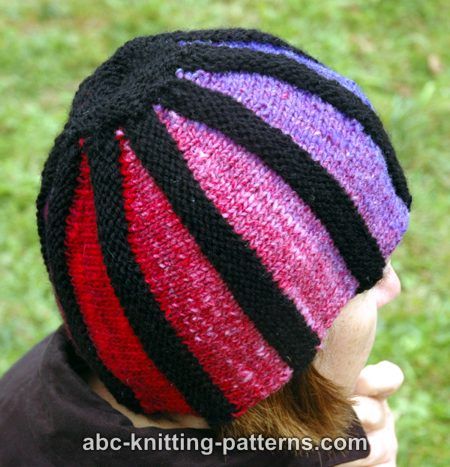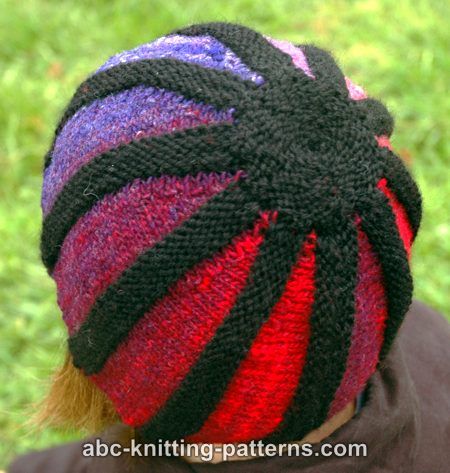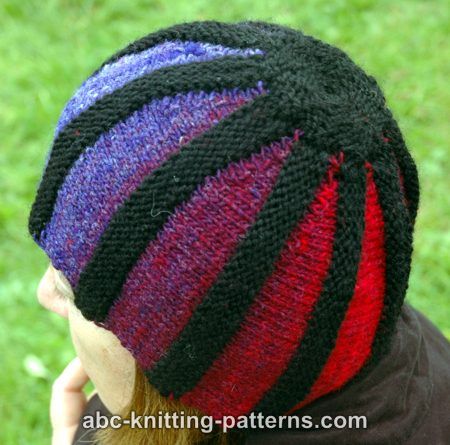 Comments
There are 1 total comments on this article.
Leave a comment
about the article.
Poster: Meg Ritchie
July 6, 2015

This reads excitement I cannot wait to start
If you liked this pattern, you might also like: