Elaine's Leaf Cowl
Difficulty level:




Easy
Free Cowl Knitting Pattern
Finished size: 11" (28 cm) wide (when folded in half, flat), and 9.5" (24 cm) high.

Materials: Lion Brand (affiliate link) Fishermen's Wool [100% wool; 465 yd/458 m per 227g skein] color: Nature's Brown; 1 skein

Needles: US 8 (5.0 mm)

Gauge for stockinette st: 18 sts x 26 rows = 4" x 4" (10 x 10 cm)

Patterns:

Garter Stitch:
All rows knit.

Abbreviations:
yo - yarn over
kfr&b - knit 1 in front and in back

Leaf Edge on 8 sts:
Row 1: (RS) K5, yo, k1, yo, k2.
Row 2: P6, kfr&b, k3.
Row 3: K4, p1, k2, yo, k1, yo, k3.
Row 4: P8, kfr&b, k4.
Row 5: K4, p2, k3, yo, k1, yo, k4.
Row 6: P10, kfr&b, k5.
Row 7: K4, p3, k4, yo, k1, yo, k5.
Row 8: P12, kfr&b, k6 - 20 sts.
Row 9: K4, p4, ssk, k7, k2tog, k1.
Row 10: P10, kfr&b, k7.
Row 11: K4, p5, ssk, k5, k2tog, k1.
Row 12: P8, inc 1, k2, p1, k5.
Row 13: K4, p1, k1, p4, ssk, k3, k2tog, k1.
Row 14: P6, inc 1, k3, p1, k5.
Row 15: K4, p1, k1, p5, ssk, k1, k2tog, k1.
Row 16: P4, inc 1, k4, p1, k5.
Row 17: K4, p1, k1, p6, SK2P, k1.
Row 18: P2tog, bind off 5 sts, p3, k4 - 8 sts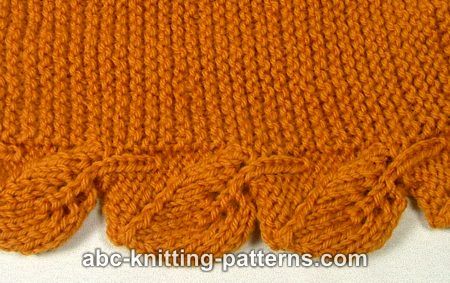 Directions

Cast on 38 sts
Row 1: Knit 30 sts, place a marker. Work Leaf Edge pattern on the remaining 8 sts.
Row 2: make leaf on sts until marker; knit the remaining 30 sts.
Rows 3 through 18: knit 30 sts as established and make LEAF EDGE pattern on the remaining sts.
Repeat rows 1-18 ten times or to desired length.
Bind off

Finishing:
Sew the short edges together.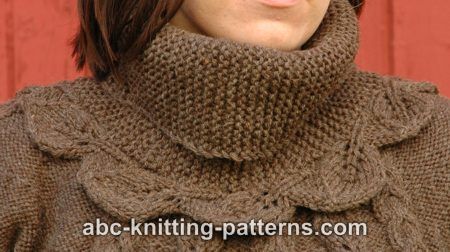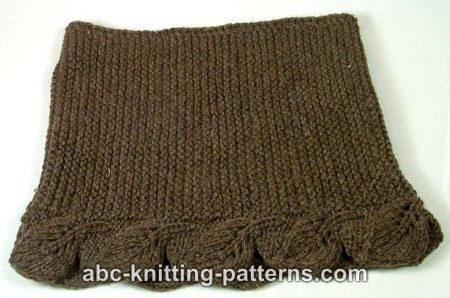 Comments
There are 4 total comments on this article.
Leave a comment
about the article.
Poster: Cindy
December 29, 2014

I love this pattern, and have made at least five of them now. All the recipients were delighted!
Poster: Ida
October 19, 2013

Nice cowl. Thank you for sharing the pattern for free. Elaine: to make the files to present on Ravelry take work and time, sometimes we lucky pattern hunters need some patient and have to use the internet to downlowd the information we need.
Poster: Pamela
January 21, 2014

Thanks for sharing this pattern, I like it very much. I have already made two of them and plan to make more as gifts. Thanks again!
Poster: Elaine Marie
September 22, 2013

I am very disappointed that I could not print your pattern from Ravelry. They weren't much help, I have never had a problem before. I asked Ravelry if the could e-mail it to me and was refused.
If you liked this pattern, you might also like: