Black and White Crochet Flower Bracelet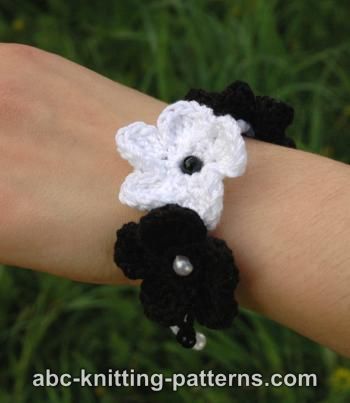 Difficulty level:




Easy
Free Bracelet Crochet Pattern
Finished length - 8" (20 cm)

Materials: Aunt Lydia (affiliate link)'s 100% Mercerized Cotton, Size 3, 150yd/138m, black and white; toggle clasp, three 5mm beads, one black and 2 white.

Hook: 2.0 mm

Directions

The bracelet consists of 2 cords (black and white) and 3 attached flowers (2 black and 1 white) with bead in the center..

Cord:
Leave a tail of about 6"-7" long. Chain 2. Insert the hook in the first ch and make a sc.
Turn the working piece clockwise and sc into previous sc, but from the back.
Turn the piece again and work sc the same way. Continue to work the cord to desired length.
Our cord is 8" long. Cut the thread leaving 6"-7" tail.

Make 2 cords, one white and the second black.

On the table place the cords in 2 parallel lines. Insert the tails into a neckace clasp. Tie. Then chain the ends.

Flower:

Foundation: String a bead onto the yarn. Leave a 7" tail.
Round 1:Tie a slip knot, chain 3 using the tail yarn.
Move the bead up to the knot. Chain 3 on the other side of the bead and join into a ring with a slip stitch.
The bead is in the center of the ring.
Round 2: Ch1, 10 sc in the ring, join with a sl st to the first sc.
Round 3: *ch 2, 5 tr in the next sc, ch2, sc in the next sc. Repeat from * 4 times more. Tie off.
Weave in the final tail.
Leave the first tail as it is, you will use it to sew the flower to the cord.

Make 3 flowers - 2 black and one white.

Sew the flowers to both cords.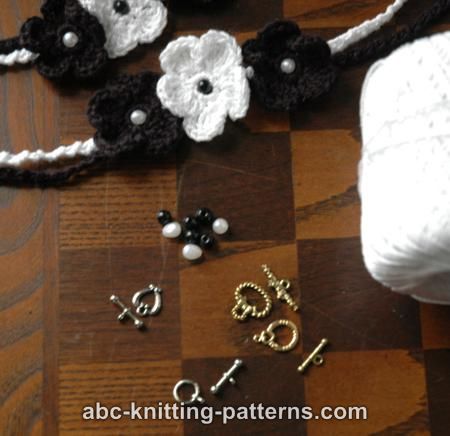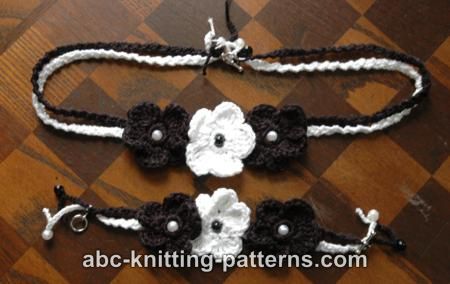 Comments
If you liked this pattern, you might also like: