Easy Seamless Baby Cardigan with I-Cord Ties
Difficulty level:




Easy
Free Baby Cardigan Knitting Pattern
The cardigan is worked top-down, back and forth, without seams.

Size: 6 months (12 months, 18 months, 2T)
Chest: 17 (18, 19, 20) inches [43 (46, 48, 50) cm]
Head 18"

Materials: Rowan (affiliate link) Purelife Organic Wool DK weight yarn, 137 yards (125 meters) / 50 gr, color 603 Black Tea - 4 balls. This amount of yarn is enough for the cardigan and the hat.

Needles: US size 4 (3.5 mm) circular

Gauge for seed stitch: 19 st x 36 rows = 4" x 4" (10 cm x 10 cm)

Seed Stitch:
Row 1: k1, p1, repeat to the end of the row
Row 2: p1, k1, repeat to the end of the row.
Repeat rows 1-2

Selvedge stitches
The 1st and last stitch of the pattern are selvedge stitches. To make the edges of your work even and smooth 2 more stitches (selvedge stitches) are added. You should always slip the first stitch as if to knit and purl the last stitch. The selvedge stitches are not counted in the pattern unless otherwise specified.
Directions:

Cast on 29 (29, 35, 35) st and work 1 row of seed stitch patterm (see above)
Divide stitches as follows: 1 edge st, 1 st (left front), 1 st (raglan line, place marker), 5 (5, 7, 7) sts (left sleeve), 1 st (raglan line, place marker), 11 (11, 13, 13) sts (back), 1 st (raglan line, place marker), 5 (5, 7, 7) sts (right sleeve), 1 st (raglan line, place marker), 1 sts (right front), 1 edge st. Raglan sts should be knit in odd rows and purled in even rows.
Work seed stitch for 16 (16, 20, 20) rows increasing for 10 sts in each odd row (double increase at the raglan sts as follows: *M1, k1, M1 *) and 1 st at the beginning and the end of the row.
Rows 17-30 (17-34, 20-38, 21-42): increase only for 8 sts in each odd row at the raglan line.

Divide for sleeves
Row 31 (35, 39, 43): Work left front sts, transfer left sleeve sts to a length of yarn, cast on 3 sts with single cast on, work back sts, transfer right sleeve sts to a length of yarn, cast on 3 sts with single cast on and work right front stitches. Continue to work bodice back and forth, rows 32-70 (36-74, 40-78, 44-82).
Rows 71-73 (75-77, 79-81, 83-85): rib 1x1.
Bind off.

Sleeve
Sleeves are worked in rounds.
Transfer sleeve sts from the yarn to the needles and pick up 3 sts over the 3 underarm sts. Place a marker on the 2nd st. Work seed sts for 38 (42, 46, 50) rounds. Decrease for 1 sts in every 4th round at the marker.
Work 3 rounds of rib 1x1. Bind off.

Finishing:
Knit four 5" (12 cm) I-cords on 4 sts. Sew 2 of them along the edge of the right (left) front and 2 of them on the left (right) front (see picture).
See video instructions for knitting I-cord

Enjoy!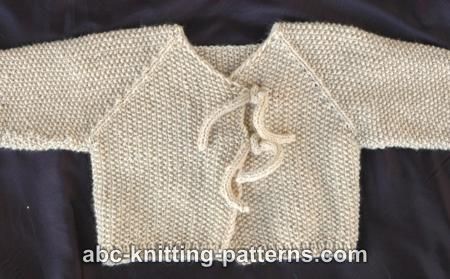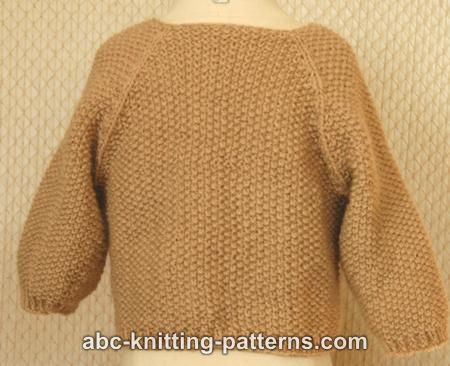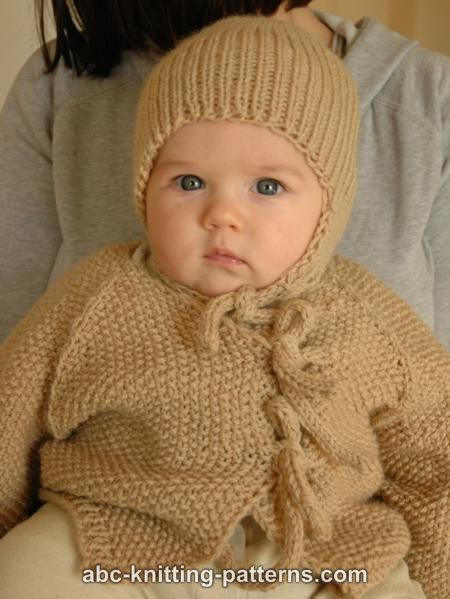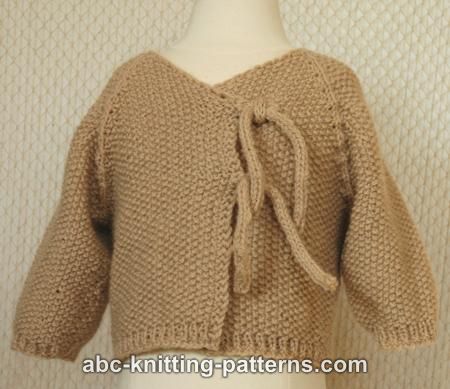 Comments
There are 3 total comments on this article.
Leave a comment
about the article.
Poster: Eyines
March 21, 2016

Thank you so much for sharing!
Poster: Dhanam Krishnaswamy
June 9, 2015

I am new to seamless knitting. I have some knowledge of basic knitting, others I refer to YouTube. I would like to learn some new projects.
Poster: a
January 29, 2014

could you please make a detailed video for this please.
or send me very detailed explantions. as i am a beginer i have knitted before, but simple thing like scarves and hats. and therefore i do not understand a single direction in these instructions. but i have a baby coming on the way and i would love to knit this cardigan for her!! please assist!!!
If you liked this pattern, you might also like: