American Girl Doll Flared Buttercup Skirt
Difficulty level:




Easy
Free Doll Skirt Crochet Pattern
Materials:
Aunt Lydia (affiliate link)'s Classic Crochet Thread, 100% mercerized cotton, 350yd (320 m), size 10. Golden Yellow - 1 ball (GY),
Aunt Lydia (affiliate link)'s Classic Crochet Thread, 100% mercerized cotton, 300yd (275 m) size 10, Pastels Variegated (PV) - 1 ball

Hook 1.75mm

Gauge: 12 dc = 2" (5 cm)

Directions

The skirt is worked from the top without seams (except for the skirt's waist band, which is worked back and forth).

With GY chain 60 sts.
Rows 1-3: ch 3 (counts for the first dc), 59 dc
Fold the strip lengthwise, connect the long edges with sc - for this insert the hook in the sts from both edges and draw the yarn through sts on both edges. Work to the end of the strip to get a tube.
Join in a circle with a slip stitch. Continue to work in rounds.
At the end of each round, join with a slip stitch, but do not turn.

Round 1: ch 3 (counts as dc), dc in the same st as chain, 2 dc in every st. of the round = 120 sts
Change the yarn to PV and work 6 rounds 120 dc in each round. 
Round 7: ch 3, *2 dc in the st of the previous round, 1 dc in the next st repeat from * across the round. = 180 dc
Round 8: ch 3, 179 dc. Work 8 rounds like 8th round = 180 dc.
Rounds 9-16: repeat round 8. Work rounds 9, 12-16 with PB and rounds 10-11 with GY.
Round 17: change yarn to GY, 180 sc across the round.
Round 18: ch3, 179 dc across the round.
Round 19: ch1, 179 sc across the round
Round 20: the edge
 *insert the hook in the second st from the hook, work 5 dc in the same st, skip the next st and work sc in the second st, repeat from * across the round. Tie off.
 
Finishing:
Insert elastic band in the waist band tube of the skirt, stitch the opening close.  
Enjoy!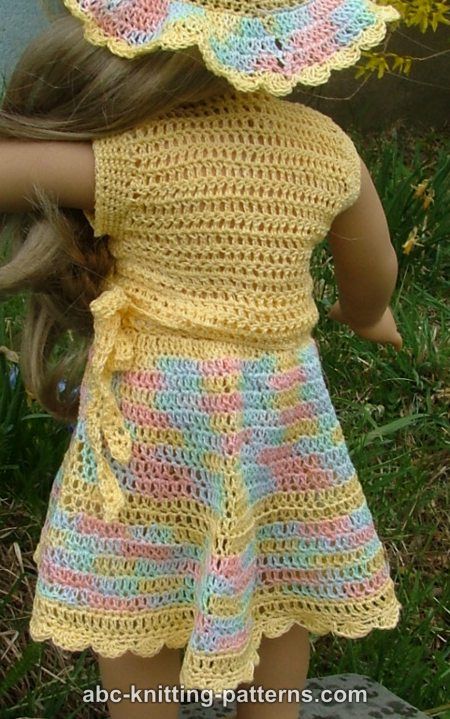 Comments
There are 21 total comments on this article.
Leave a comment
about the article.
Poster: Cil
November 16, 2020

I used a #1 yarn and a size 2mm hook and this skirt fits a Journey Girl doll but not an American Girl doll. I will have to adjust the pattern for the AG doll.
Poster: Elaine Phillips
April 4, 2013

Was your gauge the same as recommended in the pattern?
Poster: Elaine
May 1, 2013

Re Buttercup skirt AG doll. Help what gauge and needle- I.ve tried several and still small?
Poster: Trudy Gruenhagen
May 4, 2013

Not only was my gauge way off, I think my AG doll has a bigger butt than normal (12.75 ")!! I used a larger hook and #3 thread, and it turned out just fine. Thanks for this great outfit.
Poster: Elaine Phillips
May 2, 2013

The gauge should be 12 dc in 2 " (5 cm). If you have less, use bigger hook.
Poster: Daryl Walsh
March 3, 2019

I love your doll clothes, the trouble is I can't for the life of me follow a pattern. I do great following a video. Have you thought of doing tutorials?
Poster: Donna R
March 24, 2016

I'm making this whole outfit (and a few others of yours) for my grand daughters doll for her Birthday. When you list the yarn (or thread) needed. Is that what you need to buy? Does it take the whole ball? What is the total amount needed for the whole outfit? Seems like a lot (5 balls) for a doll oufit. I don't want to buy too much. Thank you! Your patterns look awesome :)
Poster: Bara'ah
February 13, 2016

Hi Elaine,
I'd just like to say a big thank you for your free patterns. Your work is absolutely gorgeous. I've just made this skirt, my first thread project, and now I need to stock up on more thread so I can try your other creations. Very much appreciated.
Poster: Jolene
February 5, 2016

If my info is right the waistband should be 5". The American girl doll has an 11" waist. Is this the right
Poster: Jolene
February 4, 2016

I can't figure out row 7. Dc in previous row
View All Comments (21)
If you liked this pattern, you might also like:
Browse Similar Items by Category: