Easy Headband with Cable
Difficulty level:




Easy
Free Headband Knitting Pattern
If you're looking for head gear to match your favorite cabled sweater, but don't want a complete hat, this headband might be perfect for you!
When finished, the headband is double-layered for extra warmth. The headband is knitted sideways with a cable running down the middle and reverse stockinette stitch on either side. It starts out being twice as wide as it needs to be. After the knitting is finished, the headband is joined into a circle and then the top and bottom edges are folded inward along the knitted lines (these are formed using knit sts in the middle of the reverse stockinette stitch). This allows for a very clean top and bottom edges to the headband.

Because the headband is knitted sideways, it is very easy to size as you knit.

This headband is great for a beginner looking to practice their cables!
Skills Required/Techniques Used:
-Knit & purl, cast on & bind off
- Cable

Materials: 100% Wool Lion Brand (affiliate link) Fishermen's Wool yarn 465 yd (425 m) / 227g - 1 skein. Color Natural

Needles: 8 (5.0 mm) OR SIZE NEEDED TO OBTAIN GAUGE.

Gauge: 16 st x 18 rows = 4" x 4" (10 x 10 cm) in stockinette stitch

Notions: Cable needle or stitch holder size 4-5 mm, - Yarn needle

Abbreviations:

K – knit
P – purl
St – stitch
Sts - stitches
LC - left cross
LCC – left cross cable
RS – right side
WS – wrong side


Pattern Notes:

Reverse stockinette stitch:
Row 1 (RS): purl
Row 2 (WS): knit
Repeat 2 rows.

3/3 Left Cross Cable (on 6 sts):
Rows 1, 3 (RS): knit.
Rows 2, 4, 6 (WS): purl.
Row 5 (RS): 3/3 LCC - slip 3 sts on a cable needle and hold in front, knit the next 3 sts, return the sts from the cable needle to the left needle, knit them.
Repeat rows 1-6.


The selvedge/edge stitches are worked as follows: slip the first stitch knitwise and purl the last one:


Headband

Use text or chart for work.

Cast on 32 sts.
Row 1 (RS): k1, p7, k1, p4, k6, p4, k1, p8. (= 32 sts)
Row 2 (WS) and all WS rows: sl 1, k7, p1, k4, p6, k4, p1, k7, p1.
Row 3 (RS): sl 1, p7, k1, p4, k6, p4, k1, p8.
Row 5 (RS): sl 1, p7, k1, p4, 3/3 LC, p4, k1, p8.
Repeat rows 1-6.

Knit for 20" (50 cm) or to fit your head circumference. Cast off.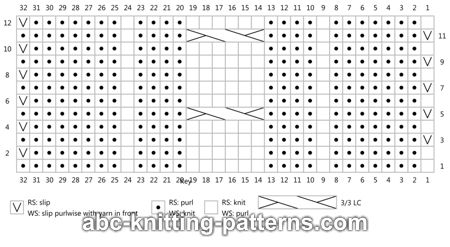 Click image to enlarge


Finishing

Sew the ends of the band to form a tube.
Fold the band edges back and sew them together in the center.

Enjoy!
Pattern was updated on August 8, 2018.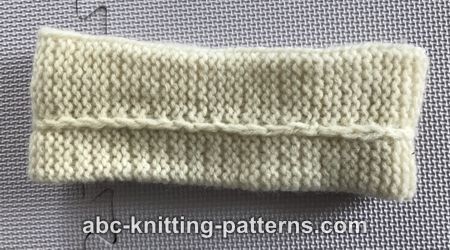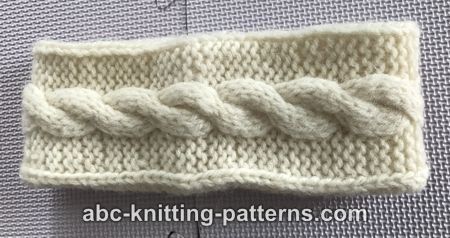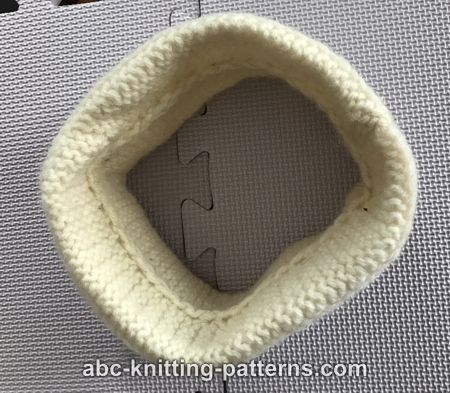 Comments
There are 16 total comments on this article.
Leave a comment
about the article.
Poster: Tina Cowden
August 12, 2016

The only problem I'm having with the pattern is the slip stitch, can't remember if the default is knit wise or purl wise. LOL
Poster: Cheryl
November 10, 2013

Write out each line of the pattern. You'll see that it works out fine. Rows 2, 4, & 6 are the same. Row 5 is the only row where you cable. Pattern works up fast.
Poster: bloschum
November 17, 2013

I'm working on this right now and having a fine time of it. It is working up exactly as pictured. Tell me what your problem is and I will help you straighten it out.
Poster: Suzsch
January 27, 2014

I can't figure out where to start on these directions. Do I start at the "Pattern: Row 1. Purl Row 2. Knit" or do I start where it says "Directions Knit as follows Odd rows, Etc." I am new and trying to figure it out.
Poster: Linda
October 30, 2014

I love this pattern but can't figure out when to knit what where! Like when is cable row done on the wrong side? Please help
Poster: Carolyn
November 30, 2014

I'm also confused as to where to start. Is it at Patterns: or Directions: Also, I have never knitted a cable like this! Usually I move stitches to a cable needle, go ahead and knit some stitches and then go back and knit the stitches off of the cable needle. One time cabled stitches at front and next time at back. Also, I didn't realize the headband was folded. It doesn't look folded in the picture. Thank you anyway for posting this pattern. The headband is beautiful. I'm just frustrated trying to figure it out.
Poster: bioschum
December 10, 2013

Remember, the band is going to be folded lengthwise when finished knitting, 25% turned under on the right side and 25% turned under on the left side, with a seam up the middle of the back.
Trust what you read; it is exactly correct.
Poster: Carol
February 10, 2014

I did not realize this was to be folded, but I did figure it out. Thanks all!!!



Poster: Liz
November 18, 2015

I used lion brand wool-ease. I did not fold it like the pattern says, I liked better that way and looks great.
Poster: Sandy
February 17, 2015

Hello...
I would like to try this pattern, and am wondering if it can be made with worsted weight (4) yarn? If so should I use 2 strands at once?

Looking forward to knitting this. Thank you for your reply.
View All Comments (16)
If you liked this pattern, you might also like: