American Girl Doll Garter Stitch Hat with Pompon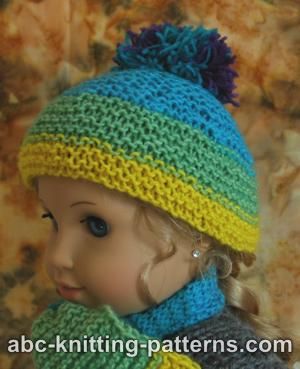 Difficulty level:




Easy
Free Hat Knitting Pattern
Materials: Regia Sock yarn 209 m (229 yds)/50g - 1 ball.
Needles: 1 (2.00 mm) OR SIZE NEEDED TO OBTAIN GAUGE.
Gauge: 24 st = 4" (10 cm)
Pattern:
Garter Stitch
all rows - knit sts
Selvedge stitches
The 1st and last stitch of the pattern are selvedge stitches. To make the edges of your work even and smooth 2 more stitches (selvedge stitches) are added. You should always slip the first stitch as if to knit and purl the last stitch. The selvedge stitches are not counted in the pattern unless otherwise specified.
Directions:
Cast on 72 sts (including edge stitches).
Knit garter stitch pattern for 16 rows.
Rows 17-36: decrease evenly 10 sts in each 4th row 5 times, 50 sts total.
Cut yarn, leaving a 10" (25 cm) tail. Pull through remaining sts and secure.
Finishing:
Join back seam.
Make a pompon and sew it on at the top of the beret.
Enjoy!
Comments
There are 6 total comments on this article.
Leave a comment
about the article.
Poster: MMM
November 4, 2013

How many rows per inch? I am adapting to a different yarn/needle and would like to know row gauge.
Poster: gudrun brunhuber
December 27, 2012

thank you. It made my grandaugther also very happy in the Holiday season.
Poster: Elaine Phillips
January 8, 2013

You have to achieve the same gauge to get the correct fit.
Poster: Alice
December 30, 2012

could I use worsted weight yarn for this hat?
Poster: Carol B
December 30, 2012

What does edge stitches mean? I have not heard this before.
Poster: kerry Joyce
October 6, 2012

thank you for sharing your pattern. it will make my grandchild very happy to put it on her doll.
More Information
Back of the hat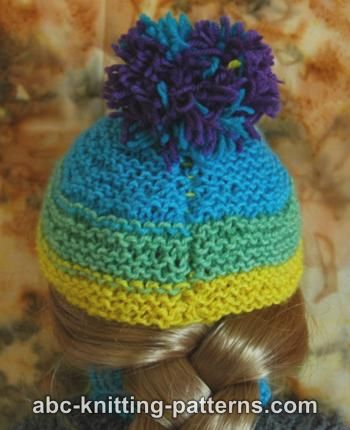 If you liked this pattern, you might also like:
Browse Similar Items by Category: