Evening Wear Knitted Tunic
Difficulty level:




Easy
Free Knitting Pattern
Size: 12/14 (42/44)
Materials: Caron (affiliate link) Fabulous railroad ribbon yarn 146m (160 yd)/50g - 12 balls.

Needles: 4 (3.5 mm) OR SIZE NEEDED TO OBTAIN GAUGE
Crochet hook B (2.25 mm)
Gauge: 20 st x 24 rows = 4" x 4" (10 x 10 cm)
Patterns:
Stocking Stitch:
Row 1. knit
Row 2. purl
Repeat row 1 and 2.
Back
Cast on 120 sts (including edge stitches).
Knit stocking stitch for 28" (71 cm) 168 rows. Cast off.
Front
Cast on 120 sts (including edge stitches).
Knit stocking stitch for 22" (56 cm) 132 rows.
To shape a neckline close 40 sts in the middle and continue to knit each side separately. Close 1 sts on both sides in each odd row 5 times. 144 rows.
Knit 24 rows. Cast off.
Finishing:
Join side and shoulder seams.
Crochet 2-3 rows of sc arond the neckline, armholes and at the bottom.
Enjoy!
Comments
There are 6 total comments on this article.
Leave a comment
about the article.
Poster: Bonny
July 7, 2016

Why is only one size given? I would be interested in making this item but need a larger size (x-large or xx-large)
Poster: Elaine Phillips
September 4, 2014

For size 38 you'll need to cast on 100 sts.
SC means single crochet.
Poster: Claire Regalado
September 4, 2014

Thank you so much! Now I can start.
Poster: Lisa Ogilvie
May 27, 2015

Are you sure you mean #19 needles? You couldn't adjust the pattern to fit that big of a needle. It could be adjusted to knit in the round, but on the recommended needles or the ones you'll use to obtain the gauge. Maybe you meant #9?
Poster: Cindy
March 4, 2015

I'm new to knitting and am wondering how would I adjust this pattern to knit it on size #19 circular needles?
Thank you!
Poster: Claire Regalado
August 28, 2014

I should love to knit this simple, drapey garment, but need the number of stitches for size 38.
Also, forgive my ignorance, but what does 'sc' stand for, in the crochet indications?
Thank you,
Claire.
More Information
Close-up of the tunic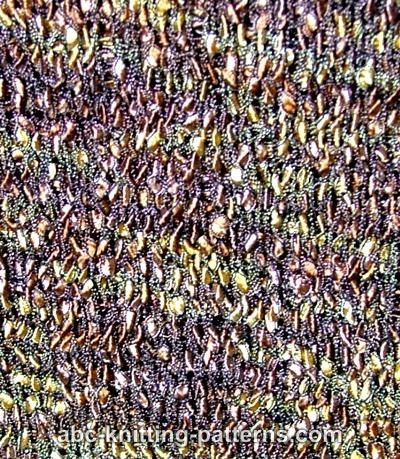 Back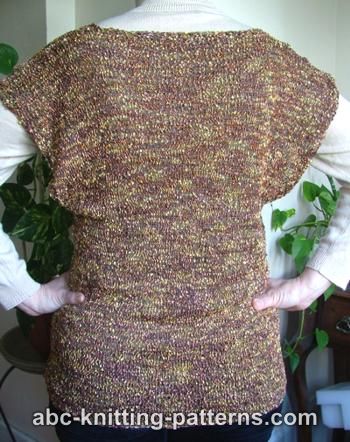 If you liked this pattern, you might also like: