American Girl Doll Lacy Bolero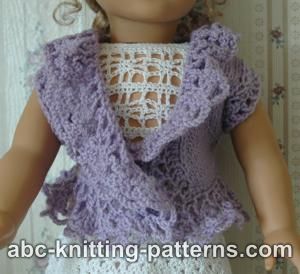 Difficulty level:




Intermediate
Free Doll Knitting Pattern
Materials: Bernat Acrylic fingering weight yarn. You need about 50 gr
Needles: 1 (2.25 mm) OR SIZE NEEDED TO OBTAIN GAUGE
Crochet hook: 1 (2.75 mm)
Gauge:19 st x 26 rows = 4" x 4" (10 cm x 10 cm)
Patterns:
Stocking Stitch
1 row and all odd rows - knit sts
2 row and all even rows - purl sts
Back
Cast on 30 sts (including edge stitches).
Knit stocking stitch for 22 rows. Cast off
Right Front
Cast on 15 sts (including edge stitches).
Knit stocking stitch for 32 rows.
To shape the neckline start decreasing 1 st in every odd row from row 5. Decrease 6 sts. Cast off after row 32.
Left Front
Knit as right front.
Finishing:
Join side and shoulder seams.
Neckline and bottom ruffle
Row 1: Crochet 74 dc along the neckline and center sides of the fronts, crochet 60 sc along the bottom of the back and front.
Row 2: ch 6, skip 1 loop, 1 sc, (ch 5, skip 1 loop, 1 sc) repeat 67 times.
Row 3: *1 sc in the ch 5 from the previous row, ch 5* repeat along the row.
Rows 4: ch 3, 2 dc in the sc from the previous row, ch 1, *3 dc in the sc of the previous row, ch 1" repeat along the row.
Row 5: *1 sc in the middle dc, ch 5* repeat along the row. Tie off.
Arm Bands
Row 1: all sc
Row 2: *1 dc, skip 1 loop, ch 1* repeat along the row. Tie off.
Enjoy!
Comments
There are 6 total comments on this article.
Leave a comment
about the article.
Poster: Barbara
May 28, 2012

I was doing well until the last row of the arm band. How do you do a double crochet, then you skip a loop, and there you say chain one, do you mean sc one?
Poster: Elaine Phillips
May 29, 2012

You work the arm bands as follows: *dc, ch 1, skip 1 st* repeat to the end of the round.
Poster: Elaine Phillips
February 26, 2012

I tend to knit very loose, besides knitting in a continental style, which gives a much looser knit. That is why I usually use needles that are 2-3 sizes smaller than recommended by the yarn manufacturer. Either way, I always mention in the instructions that you should use the needle size necessary to obtain gauge. This doll has rather "beefy" shoulders and because of that I usually make the front longer than the back. I hope that helps.
Poster: Judy
May 15, 2014

I am not a knitter, and am learning to crochet clothes, (have always just crocheted afghans only) and am going to try to figure out a pattern for this in crochet (for the body of the pattern), and then add the rest. Do you crochet too or just knit? any suggestions ? Judy Kelly-Miller on f.b.
Poster: Jeane
June 12, 2015

I have made this bolero several times following exactly your instructions and using fingering wool. They turned out perfect and I am a beginner knitter. Thanks for the beautiful pattern.
Poster: Jill
February 25, 2012

Not sure about this pattern. First of all, the pattern calls for Fingering Weight yarn and a size 1 needle. It then goes on to say that the gauge is 19 sts to 4inches. Really????? I have been knitting for over 40 years and NEVER have come up with 19 sts to 4 inches with fingering weight yarn! I also found that the fronts should be knit to row 22 as the back is. I would love to rewrite! I made this Bolero up, and it is cute, but with a size 7 needle and worsted weight yarn to get the gauge to work out. I worry about the beginner knitter who thinks she can tackle this yet wonders why the 30 st back is only 2 inches across and can't figure our why.
More Information
Back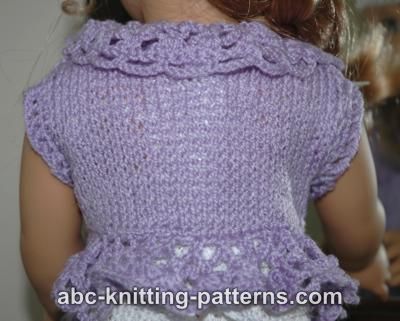 Close-up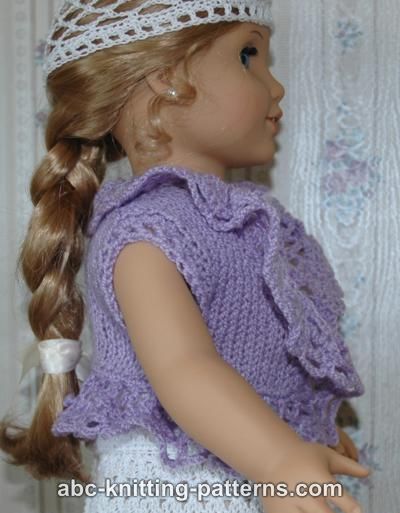 If you liked this pattern, you might also like:
Browse Similar Items by Category: