Men's Top Down Raglan Sweater
Difficulty level:




Intermediate
Free Men Sweater Knitting Pattern
Sizes: S (M, L, XL, XXL)
Chest: 92 (102, 112, 122, 132) cm [36 (40, 44, 48, 52) in.]

Materials:
Elann Limited Edition Picasso DK weight yarn 180 yards (165 meters) / 50 gr - 8 (8, 9, 10, 11) balls
Some black and white yarn of the same color for stripes.

Needles: circular 4 (3.50 mm) 24" (60 cm) long

Gauge for stocking stitch: 19 st x 28 rows = 4" x 4" (10 x 10 cm)

Patterns:

Stocking Stitch
1 row and all odd rows - knit sts
2 row and all even rows - purl sts

In rounds: all rows - knit

Selvedge stitches
The 1st and last stitch of the pattern are selvedge stitches. To make the edges of your work even and smooth 2 more stitches (selvedge stitches) are added. You should always slip the first stitch as if to knit and purl the last stitch. The selvedge stitches are not counted in the pattern unless otherwise specified.

Directions
The sweater is worked from the top to the bottom back and forth and in rounds without seams. It will be a good idea to transfer all your work to a couple of long circular needles and try it on to check how it fits.

Cast on 49 (49, 53, 57) sts and knit 1 row.
Divide stitches as follows: 1 edge st, 1 st (left front), 1 st (raglan line, place marker), 8 (8, 9, 9, 10) sts (left sleeve), 1 st (raglan line, place marker), 25 (25, 27, 27, 29) sts (back), 1 st (raglan line, place marker), 8 (8, 9, 9, 10) sts (right sleeve), 1 st (raglan line, place marker), 1 sts (right front), 1 edge st.
Work stocking stitch for 18 (18, 20, 20, 22) rows increasing for 10 sts in each odd row (double increase at the raglan sts as follows: *k1, yo, k1 in the raglan st*) and 1 st at the beginning and the end of the row.
Row 19 (19, 21, 21, 23): at the end of the row cast on 3 st with the single cast on and continue to work in rounds. Place marker on the front central st. Now the beginning of the row will be at the left front raglan marker.
Work stocking stitch for 42 (52, 58, 66, 70) more rounds.

Divide for sleeves
Transfer left sleeve sts and left front and left back raglan sts to a length of yarn, cast on 6 (6, 6, 8, 10) sts with single cast on, work back sts, transfer right sleeve sts and right back and right front raglan sts to a length of yarn, cast on 6 (6, 6, 8, 10) sts with single cast on and work front stitches.
Work stocking stitch for 96 (100, 104, 108, 112) more rounds.
Work rounds 1-8 in grey, rounds 9-12 in white, 13-16 in grey, 17-24 in black, continue in grey.
Work 2x2 ribbing for 10 rounds. Cast off.

Sleeves
Sleeves worked in rounds on double pointed needles.
Transfer sleeve sts from the yarn to the needles and pick up 6 (6, 6, 8, 10) sts over the 6 (6, 6, 8, 10) underarm sts. Place marker on the 3rd (3rd, 3rd, 4th, 5th) underarm st. Work stocking stitch for 100 (102, 104, 106, 108) rounds.
To narrow the sleeve decrease by 2 sts on both side of the marker in every 6th round 10 times (20 sts total).
Work 2x2 ribbing for 10 rounds. Cast off.

Finishing:
Pick up 68 (68, 72, 72, 76) sts on circular needles along the neckline and knit 2x2 rib for 10 rows. Cast off.

Enjoy!
Close up of the sweater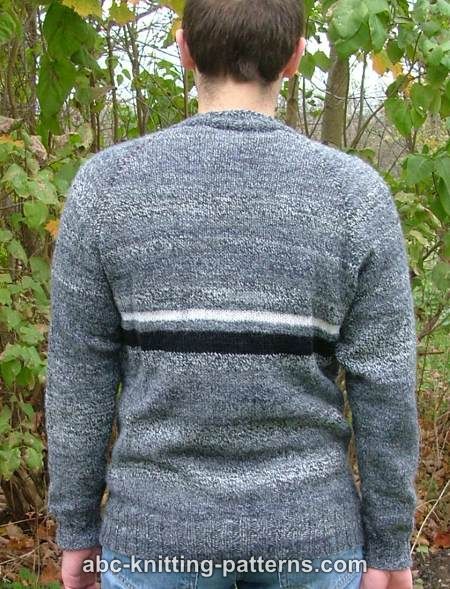 Back of the sweater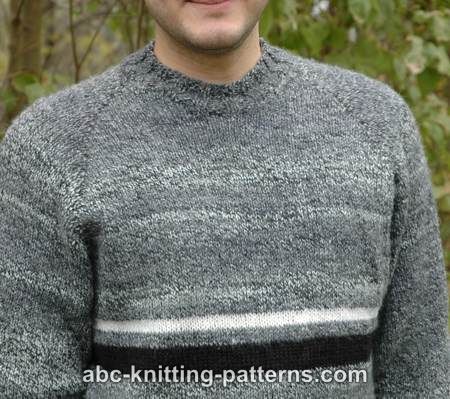 Comments
There are 14 total comments on this article.
Leave a comment
about the article.
# 1. Poster: kjax
December 23, 2013

thank you so much for this pattern! it's exactly what i was looking for, had "invented" it before but was not up to re-invention at this point in life. it has the great fitting neck without short-rowing in the back...thank you for writing it out! i have some indigo-dyed wool, and will let you know how i make out. you have made my day! kj
# 2. Poster: jfitzgerald
January 21, 2014

I understand that you increase at the Ragland lines until you divide for the sleeves every other row. Do you keep increasing at the end of the row which has become the center?

Also there is a dip thing in the center front before joining. Do you sew it closed before adding the neck ribbing?
# 3. Poster: Elaine Phillips
February 11, 2014

You stop the increases before dividing for sleeves.

# 4. Poster: Cecily
March 3, 2014

I understand from previous comments that I join at the start of round 21 and continue to increase at the raglan lines. My question is-- do I also need to do any thing with the edge stitches or the increases at the beginning and end of the row? By any chance do you have anything showing the number of stitches at various points--number of stitches per sleeve. Thank you
# 5. Poster: Elaine Phillips
March 6, 2014

After you join and start working in the round you include selvedge sts in the bodice of the sweater. The increases shape the neckline in will be also included in the sweater stitch count.
# 6. Poster: Patricia habegger
July 16, 2014

Two questions:
I'm almost done with the collar, but I'm confused that on the picture it looks like it's ribbed and I don't find that in the instructions.
I also find it difficult to understand that it will be wide enough across the shoulders to fit with a total of 139 stitches (that's what I figure I should end up with after my increases for the medium size. ( plus those three you add to join). Am I missing something?
# 7. Poster: rosegreen
March 3, 2015

I have begun this pattern. I understand I need to increase the raglan sleeves until I separate the sleeves. Do I keep increasing in the stitches that were the beginning and end of the rows?
The back of the sweater is not increasing but staying at 25 stitches. What am I doing wrong?
# 8. Poster: Elaine Phillips
March 21, 2015

You have to make a double increase at every raglan stitch. If you do this, the amount of stitches in the back, front and both sleeve will increase for 2 st after each increase.
# 9. Poster: Margaret Hollister
August 23, 2012

Seemed just right to knit my homespun wool but lost the plot with it when I started to knit the rounds before sleeve division.
Did I keep on increasing at raglan line? every round or alt? will try another pattern and hope to use this one with clearer instructions given.
# 10. Poster: Elaine Phillips
August 24, 2012

You have to make increases at the raglan lines in every odd row until you have to divide for sleeves.
View All Comments (14)