American Girl Doll Empire Waist Lace Dress
Difficulty level:




Intermediate
Free Doll Dress Knitting Pattern
Your doll will love this dress! The skirt is knitted using a lace motif that leaves a pretty scalloped edge along the bottom.  The lace motif is pretty simple and should be easy even for a less experienced knitter.

The dress is knitted from the bottom up, with seams in the rear and along the shoulders. It features a back closure.

The high empire-style waist leaves you with many options. The full-length dress you see in the picture is made with 6 repeats of the lace pattern. Try knitting 4 or 3 for a more casual summer-length dress. 2 or 3 for a "Tinkerbell" look.


Materials: Tencel Wool by Cleckheaton 70% Tencel 30% Wool DK weight yarn 91 m (100 yds) / 50 g - 2 balls.
Needles:
7 (4.5 mm) and circular 5 (3.75 mm) OR SIZE NEEDED TO OBTAIN GAUGE.
Gauge: One pattern repeat 2.25" (6 cm) on size #7 (4.5 mm) needles
20 st x 24 rows = 4" x 4" (10 cm x 10 cm) for stocking stitch on size #5 (3.75 mm) needles
Patterns:
Stocking Stitch
1 row and all odd rows - knit sts
2 row and all even rows - purl sts
Bluebells Lace
Multiple of 10 sts
Row 1 and all odd rows - purl.
Row 2: yo, k3, sk2p (sl1, k2tog, pass sl st over), k3, yo, k1
Row 4: k1, yo, k2, sk2p, k2, yo, k2
Row 6: k2, yo, k1, sk2p, k1, yo, k3
Row 8: k3, yo, sk2p, yo, k4
Repeat rows 2-9
Directions
The dress is worked from the bottom up as one piece up to the armholes. Then the front and the backs are worked separately.
Cast on 94 sts. on #7 (4.5 mm) needles.
Row 1: purl
Row 2: sl 1, k1, Bluebells lace pattern on 10 sts repeat 9 times, k1, p1.
Rows 2-48: work 6 pattern repeats.
Row 49: sl 1, purl the rest of the sts. Transfer all the stitches to the circular # 5 (3.75 mm ) needles and block the skirt. 
Continue on needles #5 (3.75 mm).
Row 50: sl 1, k1, (k1, k2tog) 30 times, k1, p1. There will be 64 sts after the decreases for the bodice were made.
Row 51: purl
Row 52: knit
Row 53: purl
Row 54: sl1, k1, (yo, k2tog) 30 times, k1, p1. (eyelet row)
Row 55: purl.
Divide all the stitches on the needles as follows: 17 sts for the right back, 30 sts for the front, 17 sts for the left back. Continue to work the front and the left and the right back separately.
Left Back
Rows 56-71: stocking st.
Row 72: cast off 7 sts for the neckline.
Rows 73-75: stocking st. Cast off.
Right Back
Rows 56-72: stocking st.
Row 73: cast off 7 sts for the neckline.
Rows 74-75: stocking st. Cast off.
Front
Rows 56-65: stocking st.
Row 66: cast off 10 sts in the middle of the row for the neckline. Finish the left and the right parts of the front separately.
Rows 67-75: stocking st. Cast off.
Finishing:
Join shoulder seams.
Join the back seam of the dress leaving 15 cm (6") open at the top.
Thread a length of ribbon in the eyelets at the waist.
Sew on 3 buttons to the left back.
Enjoy!
Comments
There are 37 total comments on this article.
Leave a comment
about the article.
Poster: Dian Freymiller
June 8, 2014

Linda Shephard did you have extra stitches after the pattern was done for each row?? I have had extra stitches on the 4th, 5th and 6th rows.
VERY FRUSTRATED
Poster: Nicole
September 15, 2014

Does it fit a 18" doll.
Poster: Lisa Savage
June 15, 2015

I am having the same problem, ended up with 4 extra stitches on the 4th row!!! Did you ever figure it out??? Please help!
Poster: Marie
September 21, 2014

Kerri, Re the American Girl Doll Empire Waist Lace dress, I just completed the skirt part and am at the point of dividing the stitches for the left and right backs, plus the front. I'm confused -- it says work each section individually and then finish up by joining the back seam. How about the side seams of the bodice? Are they left open? Hope you can help me. Thanks in advance. Marie
Poster: Elaine Phillips
July 1, 2014

Any DK weight yarn.
Poster: Elaine Phillips
December 1, 2012

Any DK weight yarn.
Poster: Kristi
January 18, 2014

Here is a good link on how to block http://www.craftsy.com/blog/2013/05/blocking-knitting-tutorial/
Basically, you are telling the stitches where to stay put. There will be a gap of time between when you knit the skirt and when you finish the top portion.
During that time, you will basically wash the skirt and then pin it to a foam board to dry in the rectangular position shown in the images below.
Once dry, you then start knitting again. what you see at the top of the image (black string) is the circular needle left in the work to hold the stitches until the work is dry.
Poster: Jeanie
September 15, 2013

I just finished the dress and have the same question! I'm new to knitting and don't really know how to plan a buttonhole. Can you let me know if you found a solution? I'm making three of them for my granddaughters.
Poster: Kristi
January 18, 2014

The easiest way to make a buttonhole is to do a yarn over.
On this pattern, I would work all stitches until you only have 3 left, at that point, I would to a yarn over and then continue knitting the remaining 3 stitches.
Once you turn the work, you will purl 3 and then purl 2 together (you will purl the yarn over and the original stitch together) this will get you back to the original number of stitches you had.
It is up to you to decide how many buttonholes you want.
Poster: Joanne
October 7, 2013

Dear Jeanie,
I made small crochet chains and sewed them on the dress as loops. It worked but I should have asked someone who crochets to do it for me. Hope you've found something that works.
View All Comments (37)
More Information
Blocking of the skirt
Back of the dress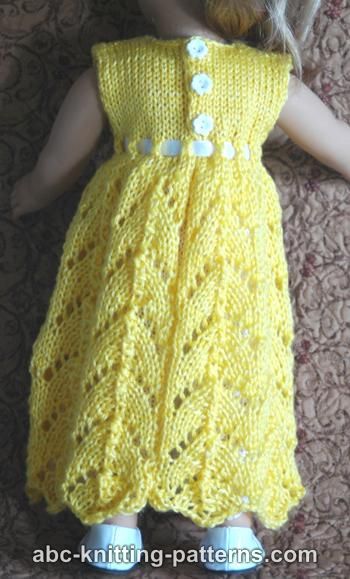 If you liked this pattern, you might also like:
Browse Similar Items by Category: