Fisherman's Rib Beret with Picot Brim
Difficulty level:




Intermediate
Head circumference: 20" (51 cm)
Materials: Lamb's Pride Bulky 125 yds/114 m per 4 oz/113 gr skein - 2 skeins. Color: M-260 Cafe au Lait.
Needles: 10.5 (6.5 mm) OR SIZE NEEDED TO OBTAIN GAUGE
Gauge: 10 st x 18 rows = 4" x 4" (10 x 10 cm) stocking stitch
Patterns:
Stocking Stitch:
1 row and all odd rows - knit sts
2 row and all even rows - purl sts
Fisherman's Rib:
Cast on even amount of stitches
Rows 1: *1 k, 1 p* repeat from * to *
Row 2: 1 k, yo, sl 1 (transfer stitch from left to right needle)
Row 3: 1 k yo and sl 1 from the prev row (knit the stitch that was slipped in the previous row together with its yarn over), yo, sl 1
Row 4: Repeat row 3.
Rib:1 k, 1 p
Directions:
Cast on 52 sts (including edge stitches).
Rows 1-6: stocking stitch.
Row 7 - Eyelet row: 1k, *k2tog (knit 2 sts together), yo*, repeat from * to *, 1k.
Row 8: purl.
Rows 9-14: stocking stitch.
Row 15: Add evenly 12 sts. Continue on 64 sts.
Rows 15-50: fisherman's rib.
Row 51-54: rib 1k, 1p.
Rows 55-62: decrease evenly 12 sts in each odd row 4 times.
Cut yarn, leaving a 10" (25 cm) tail. Pull through remaining sts and secure.
Finishing:
Join back seam.
Fold the brim along the eyelet row and sew with invisible stitch.
Enjoy!
Comments
There are 5 total comments on this article.
Leave a comment
about the article.
Poster: debbie
May 9, 2014

is it possible to knit this in the round?
Poster: Elaine Phillips
January 5, 2014

Knit one purl one across a row
Poster: Elaine Phillips
February 11, 2014

Yes
Poster: Sue
January 29, 2014

Do you increase 12 stitches on row 15 doing k1 p1?
Poster: Tina Wallace
December 3, 2013

In the fisherman's rib section of the pattern: Does the "Rib: 1k, 1p mean knit one row, purl one row; or knit one purl one across a row?
More Information
Close-up of beret.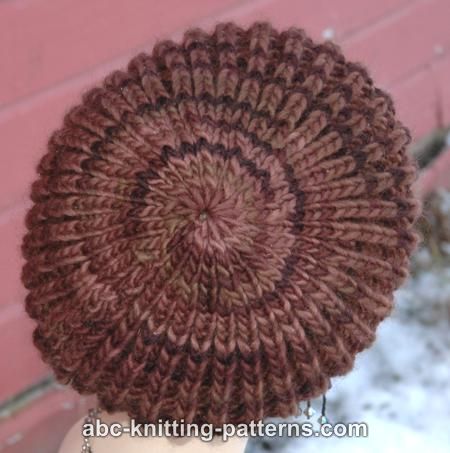 If you liked this pattern, you might also like:
Browse Similar Items by Category: